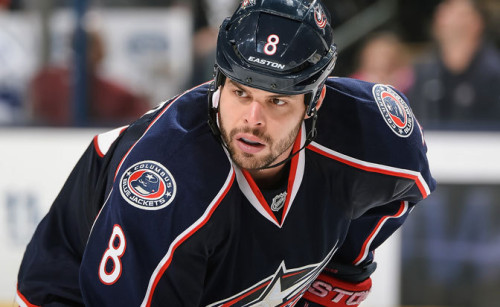 As the offseason winds down and we begin the countdown to the regular season, it's time to get familiar with those who will be donning the red, white and blue in Columbus. We'll take a look at those guaranteed to make the roster as well as those with a shot to make the club out of camp.
Today, we take a look at the Jackets' big free agency signing during the 2013 offseason that is looking to rebound this year: Nathan Horton
In the summer of 2013, the Jackets made a big splash by signing Horton to a seven-year, $37.1 million deal. He came in with the idea that he would become one of the key figures to the Jackets offense, but his debut season in Columbus left a lot to be desired.
Some of that isn't his fault. When he was signed to his deal, the Jackets knew that he would need shoulder surgery that would keep him out for the first two months of the season. That turned out to be a little worse than originally thought, with Horton unable to debut until January 2 and then getting shut down in April to undergo abdominal surgery. When all was said and done, he played just 35 games in his first year in Columbus.
With a full summer behind him to train and get back into it, Horton is looking to play a major part for the Jackets. The team is on the rise and they'll need all the help they can to push them from bubble playoff team to legit contender. Horton will have to be a catalyst.
Though Horton comes with a significant injury history – he's had more than his share of issues throughout his career – but he also brings quite a bit to the table. At 6'2", 230 he's more than a handful. He can win battles along the wall, muck it up in front of the net and chip in a fair amount offensively (he's averaged 55 points per 82 games in his career). He'll never be the kind of offensive contributor his cap hit suggests, but he can be an effective top-line player that can help center Ryan Johansen (his likely linemate) continue to grow into one of the best young goal-scoring threats in the game.
With Johansen and the newly-acquired Scott Hartnell on his line, this should be one of the roughest, toughest lines in the entire league. What makes them so formidable is the fact that they can hurt you on the score sheet just as much as they can hurt you along the boards.
Horton will need to stay healthy to have the biggest impact he possibly can, but if he can chip in 25 goals and 50-ish points while providing a fierce physical game that frees up space for Johansen and Hartnell, he'll be worth the cap hit that makes him the Jackets' highest-paid forward.
It's time to live up to the impact of his signing and help carry the Jackets to a higher level.
Follow me on Twitter: @TwoPadStackRW