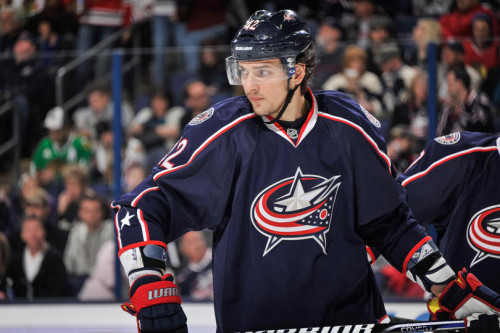 As the offseason winds down and we begin the countdown to the regular season, it's time to get familiar with those who will be donning the red, white and blue in Columbus. We'll take a look at those guaranteed to make the roster as well as those with a shot to make the club out of camp.
Today, we take a look at a player that surprises and disappoints consistently: Artem Anisimov.
The 26-year-old Russian pivot enjoyed one of his best as a pro last season, topping the 20-goal mark for the first time (22) and posting the second-highest point total of his career with 39 (his highest came for the New York Rangers in 2010-11 when he posted 44 points).
At 6'4" 200, Anisimov has an imposing frame though he'll likely never be a truly imposing presence. He's not soft, but he doesn't use his size to punish opponents consistently and some bigger guys just don't develop into physical presences.
Aside from that, he's shown a strong two-way game (a must in Columbus) and has provided quality depth for the Jackets, helping to balance things out when Rick Nash was sent to New York.
Anisimov is a bit of a frustrating player, though. Clearly, he's got the gifts to excel in the NHL but he struggles with consistency. And though he hit 22 goals last year, it was the first time he'd cracked the 20-goal barrier in his career and that untapped offensive potential has likely been tapped to the fullest. He kind of is what he is at this point: a solid two-way, third-line center that looks capable of doing more offensively, but tops out at 15-18 goals and somewhere in the neighborhood of 35-40 points. Not bad for a third line center, but it feels like there's more to him.
This year, he'll likely slot in on the third line again. Joining him are Nick Foligno, a solid-two way presence capable of cracking the 20 goal mark, and Matt Calvert, a smaller winger (5'11, 190) who shows some offensive upside after posting 24 points in 56 games last year.
For the Jackets to take the next step in 2014/15, Anisimov will need to hold form and chip in another 20-ish goals from the third line to give the Jackets that deep offense they're looking for. If he can help kill a few penalties and stop a few goals with some solid defense, even better for the Jackets.
Follow me on Twitter: @TwoPadStackRW