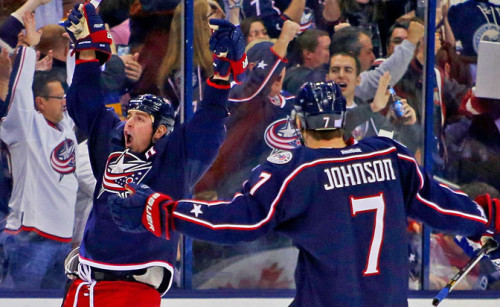 As the offseason winds down and we begin the countdown to the regular season, it's time to get familiar with those who will be donning the red, white and blue in Columbus. We'll take a look at those guaranteed to make the roster as well as those with a shot to make the club out of camp.
Today, we take a look at a player that epitomizes the Jackets and their style to a tee: Brandon Dubinsky.
The 28-year-old center is the recipient of a brand-new, six-year, $35.1 million deal that will pay him $5.85 million per season beginning next season. He earned it by posting one of the best seasons of his career last year with Columbus, notching 16 goals, a career-high 34 assists and 50 points in 76 games last season.
The strength of Dubinsky's game will never be his offensive abilities, which are stellar but not ground-breaking. Instead, he's regarded for his strong two-way play and hard-nosed demeanor. He's just as likely to deliver a big hit along the boards as he is to chip a puck into the net and that kind of quality is what teams need a lot of to win games. That grit and determination is what gets you far in the playoffs.
Dubinsky is also a natural leader. He showed those traits during his six years with the New York Rangers and immediately took on a leadership role when he arrived in Columbus. He plays and leads with a fire and will do anything to defend his teammates, including dropping the mitts if he has to.
Dubinsky showed he's more valuable than that in the spring time. After the Jackets made the playoffs for the first time in several years, Dubinsky turned in a spirited series against the Pittsburgh Penguins. His six points (five assists) in six games helped orchestrate a near upset of the Penguins in round one. He hopes to pick up where he left off next season and hopes that a longer run is in the works for the Jackets.
Flexible in his ability to play either center or wing, Dubinsky should slot in once again on the second line. He could center Cam Atkinson and Mark Letestu or one of the young guns coming up through the Jackets' system. Either way, he's going to be a strong two-way presence in the top six and will no doubt be a focal point on the penalty kill.
Dubinsky isn't a game-breaker in any sense of the word, but he's an integral part of the Blue Jackets and will play a huge role in their continued rise up the ranks in the Eastern Conference for the foreseeable future.
Follow me on Twitter: @TwoPadStackRW