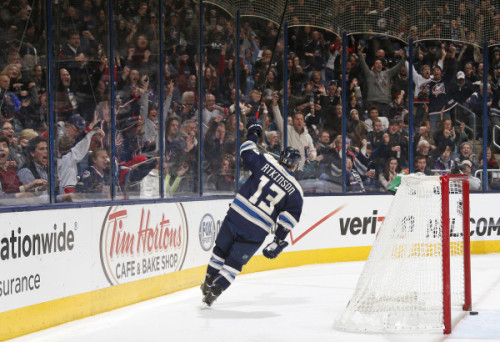 As the offseason winds down and we begin the countdown to the regular season, it's time to get familiar with those who will be donning the red, white and blue in Columbus. We'll take a look at those guaranteed to make the roster as well as those with a shot to make the club out of camp.
Today, we take a look at a player who had a quiet breakout season in the wake of Ryan Johansen's breakout season: Cam Atkinson.
The 25-year-old had spent the past few seasons bouncing between the Springfield Falcons of the AHL and Columbus, getting brief stints in 2011/12 and 2012/13. He tallied seven goals and 14 points in just 27 games during the former, nine goals and 18 points in 35 games during the lockout-shortened latter season.
Last year, in his first full season, he broke out. With 21 goals and 40 points in 79 games, his successes were partially ignored thanks to Johansen's breakout 30-plus goal season. Sure, he had his ups and downs – there was one particularly ugly stretch in December-January where he had one goal in 11 games and was shuffled around the lineup, partially to accommodate the return of Nathan Horton – but he's a clear part of the Jackets future.
Entering his fourth professional season, this could be the year Atkinson breaks out on the national scene. He's slight of build (5'7", 175 soaking wet), but he's shifty, quick and a strong defensive player, something he's made a point of being since his days at Boston College.
It's not out of the realm of possibility to believe that he could improve on his 9.7 shooting percentage of last year, giving him realistic 30-goal potential for 2014/15. If the Jackets get Johansen back and can get a nice jump in production out of Atkinson and Horton, they could see a significant rise in the Eastern Conference.
He played with Brandon Dubinsky and Matt Calvert in the playoffs last year and the trio was very solid. Atkinson registered a goal and two assists in six games in their series against the Pittsburgh Penguins. Whether he plays with those two again this season remains to be seen, but the trio plays a solid, two-way possession game and Atkinson would be the clear scoring threat of the three.
As he matures as a pro, the ceiling continues to climb for Atkinson. A little more luck and power play time could shoot him into a 30-plus goal season and see him break out a year after another young star did the same thing. With two burgeoning scorers on their hands, the Jackets would be quite the handful.
Follow me on Twitter: @TwoPadStackRW