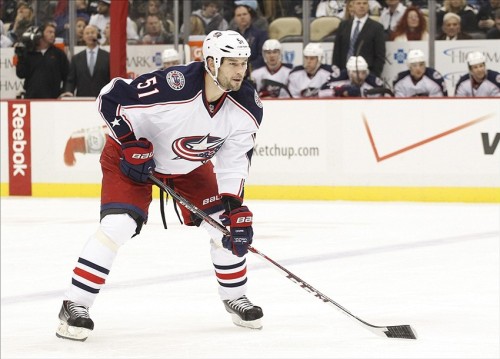 As the offseason winds down and we begin the countdown to the regular season, it's time to get familiar with those who will be donning the red, white and blue in Columbus. We'll take a look at those guaranteed to make the roster as well as those with a shot to make the club out of camp.
Today, we take a look at one of the most underrated Jackets and possibly one of the more underrated defensemen in the entire league: Fedor Tyutin.
At 31-years-old, Tyutin is entering his tenth NHL season and seventh with the Blue Jackets. Originally a New York Ranger, Tyutin (selected 40th overall back in 2001) made his mark with the Rangers as a solid defensive defenseman, signing a brand-new four-year, $11.375 million extension in February of 2008 that was to keep him a Ranger for the foreseeable future.
Instead, he was traded that offseason with Christian Backman to the Jackets for uber-bust Nikolai Zherdev and local bust Dan Fritsche. Tyutin, now in a more prominent role for the Jackets, has been a solid piece of the defense since, playing the shutdown role for Columbus while chipping in 20-25 points. He's also been a staple for Team Russia on the international stage, playing for them during the most recent Olympic games.
Back in August of 2011, Tyutin earned himself a six-year, $27 million deal to keep himself a Jacket until age 34.
The 6'2", 212 Tyutin isn't the kind of defenseman that usually jumps out at you and that isn't necessarily a bad thing. He's got decent puck-moving skills, but he isn't a scorer from the back end. His bread and butter is solid positioning and a strong defensive game. He's not a masher by any stretch of the imagination and he can have clear and costly lapses at times, but he's quietly become one of the more consistent Jackets defensemen in his own end.
For the upcoming season, the safest bet is that Tyutin will play the safety valve role for Sergei Bobrovsky. He'll be matched with an offensive defenseman like James Wisniewski or Jack Johnson, allowing them to jump into the play and do what they do best while he guards against odd-man rushes and helps keep pucks out of the Columbus goal.
For a team like the Jackets, young and on the verge of something much bigger than they've experienced before, having a player like Tyutin – a quiet leader who does his job without much flare or fanfare – is essential.
Follow me on Twitter: @TwoPadStackRW
Love Reading About Hockey?

Subscribe to keep up-to-date with the latest and most interesting hockey news!
| | |
| --- | --- |
| | We hate spam just as much as you |