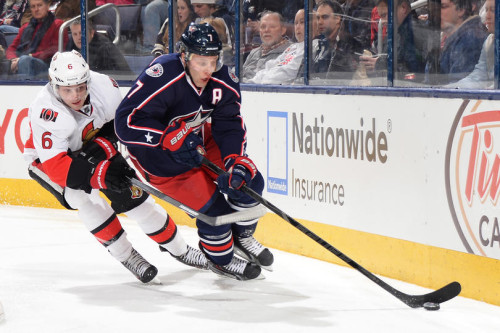 As the offseason winds down and we begin the countdown to the regular season, it's time to get familiar with those who will be donning the red, white and blue in Columbus. We'll take a look at those guaranteed to make the roster as well as those with a shot to make the club out of camp.
Today, we take a look at one of the leaders of the defense and someone who grew up with a less enthusiastic view of Columbus thanks to his Ann Arbor roots: Jack Johnson.
The 27-year-old Johnson has had an interesting journey to Columbus. He began making a name for himself at the University of Michigan, setting school records for goals by a sophomore defenseman (16) and was named the CCHA Offensive Defenseman of the Year. He marveled spectators and scouts with his skating and physical play.
After being taken third overall in the 2005 NHL Draft by the Carolina Hurricanes, he was traded to the Los Angeles Kings along with Oleg Tverdovsky for Tim Gleason and Eric Belanger. After spending five seasons with the Kings and showing a strong offensive game, Johnson was moved to Columbus in a blockbuster deal: the Jackets sent disgruntled winger Jeff Carter to Columbus for Johnson and a conditional first-round pick. Johnson took Carter's #7 jersey and has since played an important role for the Jackets, both on the blue line and as one of the leaders in the locker room.
Johnson brings a unique blend of skills to the table, though he hasn't lived up to the hype and expectations that some placed on him as the third overall pick in the draft where Sidney Crosby was selected first overall. He's a solid offensive defenseman, capable of quarterbacking the power play and 30-40 points in a good year. He's also made himself a fan-favorite throughout the years thanks to his thunderous body checks. Though he's not the tallest at 6'1", his 235-pound frame makes him a lot to handle when he's bearing down, ready to deliver a big hit. The problem with that mentality is that it can sometimes pull him out of position and result in odd-man rushes or breakdowns in the defensive zone. Johnson has improved in that area as he's grown older, but it still shows up from time to time. Johnson is an excellent skater as well, allowing him to recover from those mistakes at times and get himself back into the right position.
This season, Johnson will be counted on to not only contribute from the point but to be one of its leaders as well, sporting the alternate captain's "A" on his sweater. As one of the team's top-four defensemen, he'll likely log tons of five-on-five time (he led the team last year with 24:40 per game), some minutes on the power play and even time on the penalty kill. Though his points might not jump out at you, he's one of the Jackets' most important players and they'll need him to be at his best this year if they want to return to the playoffs.
Look for Johnson to be matched up with either James Wisniewksi or Ryan Murray, the latter a young puck-mover who could certainly benefit from the guidance of a leader like Johnson.
Follow me on Twitter: @TwoPadStackRW