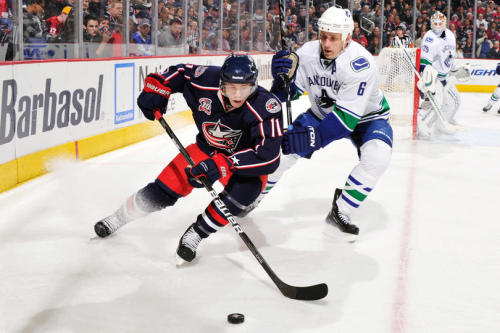 As the offseason winds down and we begin the countdown to the regular season, it's time to get familiar with those who will be donning the red, white and blue in Columbus. We'll take a look at those guaranteed to make the roster as well as those with a shot to make the club out of camp.
Today, we take a look at one of the grinders for the Jackets, filling out the ever-important bottom-six minutes: Matt Calvert.
Calvert's journey to the Jackets' lineup is an interesting one. He had a breakout final season with the Brandon Wheat Kings of the WHL, posting 47 goals and 99 points the year after the Jackets had taken him with the 127th overall pick. For a time, it looked as though the Jackets may have found a late gem in Calvert.
Over the next four seasons, though, it would be a struggle. Calvert would bounce back and forth between the Blue Jackets and the Springfield Falcons of the AHL, displaying just enough offensive skills in the AHL to garner a longer look at the NHL level. He finally played a full(ish) season in the lockout-shortened 2012/13 season, playing 42 games.
Last year, in 2013/14, he showed that he may be here to stay with the Jackets. In 56 games, Calvert would tally nine goals and a career-best 24 points, establishing himself as a nice third-line contributor. And when it mattered most, Calvert stepped up big. In their opening round series against the Pittsburgh Penguins, Calvert would tally a shorthanded goal and then the game-winner in double overtime to give the Jackets their first ever playoff win.
At 5'10, Calvert's role on the third line isn't your typical grinding two-way player. His size and strength are issues for him, so he uses his speed and intelligence to create for his linemates and has to focus on playing a smarter game.
Because of his skating and offensive potential, Calvert can either slot in on the second line with Brandon Dubinsky and Booner Jenner or he can slide down to the third line to play with Artem Anisimov and Cam Atkinson. Either way, with his speed and scoring ability, Calvert will play an important role for the bottom portion of the Jackets' lineup and a breakout season from him could be a huge thing for Columbus and their push to find the playoffs again.
Follow me on Twitter: @TwoPadStackRW