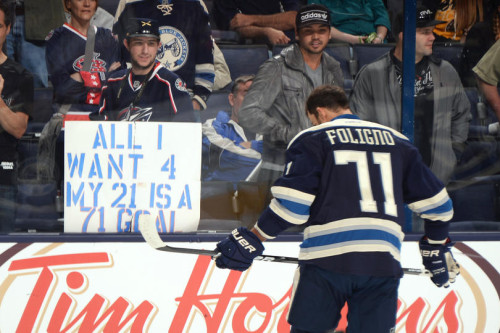 As the offseason winds down and we begin the countdown to the regular season, it's time to get familiar with those who will be donning the red, white and blue in Columbus. We'll take a look at those guaranteed to make the roster as well as those with a shot to make the club out of camp.
Today, we take a look at a heart-and-soul player for the Jackets, one who doesn't necessarily jump out but is a key contributor: Nick Foligno.
Foligno is one of the unsung heroes of the Jackets, anchoring a spot on the third line and playing a key leadership role in the locker room. Some portions of the fan base can see the latter – there has even been a call to hand him the captain's "C" with R.J. Umberger out the door in the offseason.
In regards to the latter, Foligno has shown that he is as versatile as he needs to be: he can play in all situations and contribute effectively. He handles himself well with the media, steps up to defend his teammates when it's necessary of him and is quick to lay a massive bear hug on the #1 Cop in the Force.
On the ice, he's the epitome of the Jackets of recent years: solid, if unspectacular. The 26-year-old is hard-working and versatile as they come, with a work ethic that is unmatched on the team. He kills penalties, he's willing to pay the price to score and he'll play anywhere he's asked to in any situation.
Offensively, he's a bit on the limited side: he scored 18 goals and 39 points last season, the former being a career-high. He's a solid 15 goal, 30 point contributor on the third line who could be capable of a bit more if he could find more consistency in his game.
Foligno will likely be joined on the third line by Artem Anisimov, the very solid 6'4" pivot and the young Matt Calvert. The three mesh together well, with just enough skill and offensive talent to make the third line a dangerous scoring option, but their meat-and-potatoes will be their two-way play with a little bit of a physical edge thrown into the mix.
If the Jackets are going to not only return to the playoffs, but make a deeper run in the upcoming season, they're going to be led by guys like Foligno. It's easy to miss some of his contributions that don't make the score sheet, but Nick Foligno is one of the key players in Columbus.
Follow me on Twitter: @TwoPadStackRW