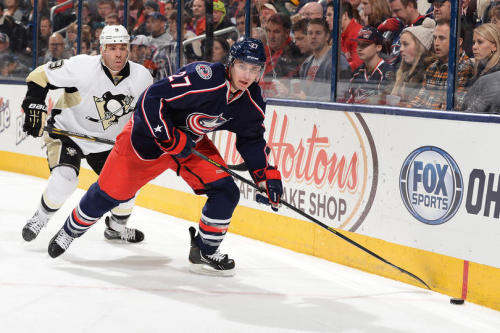 As the offseason winds down and we begin the countdown to the regular season, it's time to get familiar with those who will be donning the red, white and blue in Columbus. We'll take a look at those guaranteed to make the roster as well as those with a shot to make the club out of camp.
Today, we take a look at one of the future anchors of the Jackets defense (possibly as soon as this season): Ryan Murray.
The second overall pick in the 2012 NHL Draft, Murray had his NHL debut last season and did not disappoint. His four goals and 21 points don't jump off the page at you, but he averaged 19:52 of ice time per night (fourth on the team) and looked pised beyond his years when handling the puck. He spent most of his time on the second pairing with veteran James Wisniewski and saw some time on the Jackets' second power play unit.
Year number two for Murray could be a breakout type effort. Expect him to improve on those offensive totals as he gets increased ice time and plays in more situations in his sophomore season. He might never be the kind of point producer that many expect, but shows the special kind of awareness in his defensive zone that should make him one of the league's best defenders in no time.
He'll likely see second pairing minutes with Wisniewski again and probably won't unseat his partner nor Jack Johnson on the team's first power play unit, but could see a bump in shorthanded minutes and even crunch time minutes.
His potential is through the roof and at 20-years-old, he's still got a while before he this that ceiling. The belief is that he can contend for the Norris Trophy by the time he's figured it all out and should become hands down the best defenseman the team has ever taken (he's just the third defender taken in the first round after Rostislav Klesla, the team's first ever pick, and John Moore).
Another plus for Murray? He looks like future leader material. Some believe that Boone Jenner is a future captain and that the young Murray will no doubt be one of his alternates.
Look for a rise to nearly 40 points and double-digit goals as the youngster continues to grow both physically and mentally. It shouldn't be long before Murray is being counted on heavily as one of the pillars of the Blue Jackets.
Follow me on Twitter: @TwoPadStackRW