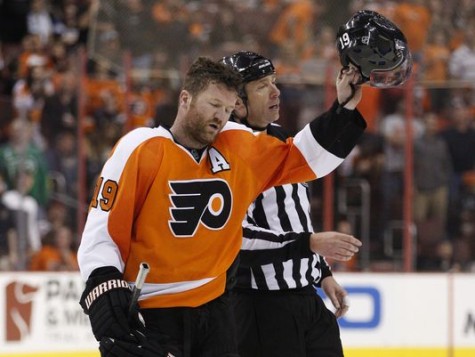 As the offseason winds down and we begin the countdown to the regular season, it's time to get familiar with those who will be donning the red, white and blue in Columbus. We'll take a look at those guaranteed to make the roster as well as those with a shot to make the club out of camp.
Today, we start with one of the new faces in town: Scott Hartnell.
Heading into the offseason, it looked like the Jackets were prepared to grow from within. Sure, they had a little work to do on the fourth line after Blake Comeau, Derek MacKenzie and Jack Skille moved on, but it seemed like the only real goal during the offseason was locking up a certain restricted free agent (it's still on the docket). Then R.J. Umberger requested a trade out of Columbus.
Before being swapped with Umberger and landing in Ohio's capital, Hartnell was a staple of the Philadelphia Flyers for the last seven seasons, averaging nearly 25 goals and 53 points per season (the 2012/13 season was excised due to it being just 48 games). He's provided sandpaper in spades, fighting when necessary and hitting anything that moves in as annoying a manner as possible. In the grand scheme of things, it seems the Jackets were put in a tough position and somehow came out with a more valuable asset than they started with. Umberger was on the decline and his contract was bloated, so it came as a bit of a surprise that anyone was willing to give up something valuable in return.
There are questions as to whether his offensive exploits are due to the contributions of Claude Giroux or his own skill and moxie. He'll have his chance to prove his worth this season in Columbus, where he'll not only replace the offense of the departed Umberger, but likely a leadership role as well. Hartnell was a highly-revered teammate in Philadelphia and will more than likely be well-received in the Columbus dressing room.
He'll more than likely slot in on the top line with center Ryan Johansen and fellow winger Nathan Horton. On paper, that seems like a formidable group: Johansen enjoyed a breakout season last year, scoring 33 goals to lead the Jackets. With two physical, scoring wingers in Hartnell and Thornton on his sides, the trio could enjoy a banner season across the board.
Even the worst-case scenario would see Hartnell slot in on the second line with Brandon Dubinsky at center and a more talented winger like Cam Atkinson or Boone Jenner on the other wing. Hartnell and Dubinsky, two physical players who have a tendency to get under the skin of their opponents, would make quite a duo.
Hartnell fits in perfectly as he has the skill and physicality to blend in with the rest of the Jackets and their mentality. This is a tough, determined team and that is Hartnell in spades. It really does seem like a match made in heaven.
The hope is that with the Jackets on the rise, Hartnell and a returning Horton can help bolster the Jackets' attack and push them to a deep playoff run. Hartnell certainly found an ideal time to land in Columbus.
Follow me on Twitter: @TwoPadStackRW