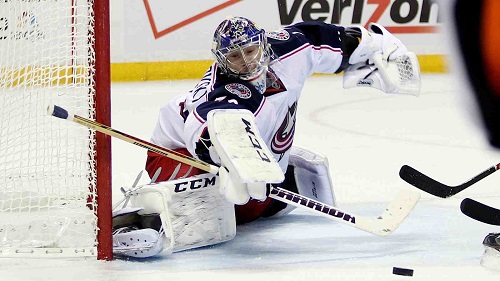 As the offseason winds down and we begin the countdown to the regular season, it's time to get familiar with those who will be donning the red, white and blue in Columbus. We'll take a look at those guaranteed to make the roster as well as those with a shot to make the club out of camp.
Today, we start at the tippy top with the #1 cop on the force: Sergei Bobrovsky.
Acquired from the Philadelphia Flyers in June of 2012 for draft picks that would become Anthony Stolarz, Taylor Leier and Justin Auger, Bobrovsky would be given the nod as the starter in Columbus after splitting time with Steve Mason. Evenually, Bob would take over the main spot permanently and Mason has since been shuffled off to, ironically enough, Philadelphia where he is now their starter.
Bob has been nothing short of outstanding during his time in Columbus. He led the Jackets on a magical run to the playoffs during that lockout-shortened 2012-13 season, falling just short of getting the upstart Jackets to the Promised Land. He did, however, steal himself some individual hardware. Bobrovsky would win the Vezina Trophy after posting a 21-11-6 record, a 2.00 GAA and .932 save percentage. He followed that up with another strong season, going 32-20-5 with a 2.38 GAA and .923 save percentage during the 2013-14 season, helping lead the Jackets to the playoffs for the first time since 2008-09.
At 25-years-old, Bobrosvky is the Jackets' franchise-netminder now and for the long haul. He silenced anyone who doubted his Vezina Trophy season was the real deal with another very good season last year and is poised to help lead the upstart Jackets back into the playoffs.
Bobrovsky sees the puck very well from his crease and has great quickness and athleticism, getting side-to-side quickly. He also seems to have that short-term memory that most goalies need, able to shake off a bad goal and trudge forward to make the next big stop.
He isn't without his flaws, obviously, and at 25 years old he still has more than enough time to grow as a goalie. He's still got to work on being more consistent, especially in regards to his concentration. Those bad goals need to become fewer and further between. He also doesn't communicate with his defensemen as well as he could, but I'm sure that's something that will get better as he grows more and more comfortable with English.
The time is now for Bobrovsky and the Jackets. He's established himself among the upper-echelon of goaltenders in the NHL and the Blue Jackets are on the rise as a team to be reckoned with come spring time. They continue to improve with smart signings and shrewd drafting, but at the end of the day, their hopes are pinned to Bobrovsky.
After all, he is the #1 cop on the force:
Follow me on Twitter: @2PSBlog