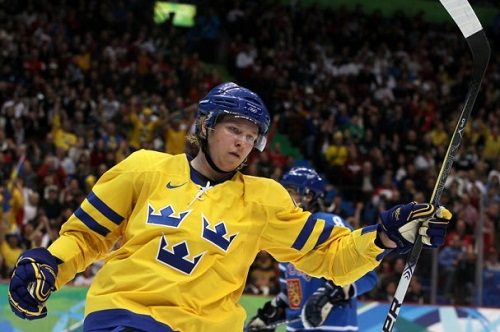 Nicklas Bäckström is never one for giving himself tons of praise after big games. Unlike Ovechkin, Bäckström tends to keep to himself. You could say that Bäckström likes his play to do the talking for him, and well it says that he is playing phenomenal this season. He is currently the top Swedish player in points with 56, one point ahead of defenseman Erik Karlsson. However, Nick has a particularly odd pundit going into the Olympics, his own grandmother.
*Editorial Note: the following is a direct quote from a friend of the mine that translated from Swedish @DenTadd
Here's some quotes from Britt Bäckström, 84 years old, in Aftonbladet, who in return quotes small Swedish newspaper Östersundsposten.

– He's gonna make a fool of himself. He's been playing so bad. For a long time.
But not only her grandson receives criticism. The entire team gets it from grandma Bäckström.
– They haven't got any "game" at all.

She watches all of the Caps games.
– I stay up and watch a couple of periods here and there. When they play bad I go to bed.
Like last week, when Capitals played the Islanders.
– I watched two periods. Then I went to bed. And wouldn't you imagine, they lost 0-1?

She's worried about things outside of the Olympic ice as well.
– Both Nicklas mother and father made the trip to Russia. I'm terrified. The whole thing's gonna be blown to pieces [by terrorists], I think.

This is actually pretty funny to read for a Swede, such as myself. Grumpy old woman from northern part of the country, who's never happy with anything, never satisfied with any performance anyone ever does. And reading this makes one understand why Nicky himself never uses any big words about his own performances.
Backstrom later refused to comment saying "I'm staying out of it. I don't want to comment. I'm sorry." to Sportbladet reporter Hans Abrahamsson
On the other end of the spectrum, Daniel Sedin gave the young center praise as he replaces [Henrik Sedin] in the upcoming Olympics. Daniel said Backstrom is the ideal replacement for his brother because their games are quite similar in that they like to get the puck, hold the puck, and then skate with it before dishing it off.
Love Reading About Hockey?

Subscribe to keep up-to-date with the latest and most interesting hockey news!
| | |
| --- | --- |
| | We hate spam just as much as you |