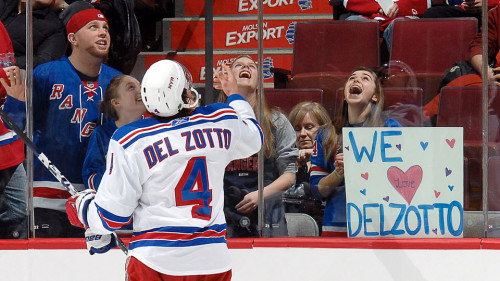 The Philadelphia Flyers signed defenseman Michael Del Zotto to a one-year, $1.3 million contract on Tuesday evening.
The 24-year-old is coming off a disappointing season split between the New York Rangers and Nashville Predators.
Once a 41-point getter, Del Zotto managed only 15 points in 67 games split between the two teams last season.
Del Zotto spent his first four and a half seasons of his NHL career with the Rangers under head coach John Tortorella. He established himself as an elite offensive threat from the blueline. He was a player with confidence and swag.
Del Zotto appeared primed to turn into one of the league's elite offensive defenseman. This projection seemed even more valid after Del Zotto hit gold in the 2011-2012 season, recording 10 goals and 41 points, to go with a plus-20 rating. He was on his way to superstar status.
Everybody believed in Del Zotto after that. He recorded more points than the elite Duncan Keith, P.K. Subban, and Drew Doughty in that career-high season.
After a decent 2012-2013 campaign (21 points in 46 games), Del Zotto struggled under a different looking Rangers team in 2013-2014. Maybe it was new coach Alain Vigneault and his different style of play. It's hard to say. Whatever it was forced the Rangers to deal him to the Nashville Predators halfway through the season.
Nashville just wasn't a good fit for the 24-year-old. He was simply a miscast there, managing only five points in 25 games and finding himself a healthy scratch many times. An offensive weapon, he was stuck behind the likes of Roman Josi, Shea Weber, Seth Jones and Ryan Ellis.
The 2008 first-round draft pick did not receive a qualifying offer from Nashville at the end of the season, making him an unrestricted free agent.
It didn't work in Nashville, but there are many reasons why it will work in Philly. Del Zotto is motivated now. Was he really motivated last season when the Rangers felt they had to get rid of him? He was going to a weak offensive team that wasn't very likely to make the playoffs. The buzz surrounding the TRADE was minimal, with people already labeling Del Zotto a bust before he even arrived in Nashville.
An unfortunate possible career-ending injury to Kimmo Timonen (Blood Clots) opened up the door for Del Zotto in Philly. The Flyers knew they needed to add a defenseman via TRADE or free agency. They weren't about to rush a top defensive prospect such as Shayne Ghostisbehere or Robert Hagg.
Del Zotto appears more motivated than ever to prove the doubters wrong. He said earlier today [Wednesday] that this is the most "motivated" he's ever been to prove people wrong. He is eager to prove his worth, and the team believes he can.
There is the vibe in Philly that Del Zotto can turn his career around here. Sometimes that's all that is needed. People believing in you, it gives you confidence.
Del Zotto averaged only 14 seconds of power-play time last season in Nashville. That is brutal, considering he was once an absolute beast with the man advantage. In his first season in the NHL (2009-2010), MDZ notched 22 of his 37 points on the power play. He couldn't be stopped. He was averaging almost four minutes of power-play time a night. Goalies feared him.
Now with the Flyers, Del Zotto will get a chance to put his power-play skill on display alongside the likes of Wayne Simmonds, Claude Giroux, and Jake Voracek. The Flyers, already known for having a lethal power play, will be even more deadly with the addition of a potential resurgent Del Zotto.
When MDZ was in Nashville, he was behind a great group of talented defensemen. Yeah, about that defense situation in Philly…
Del Zotto will be joining a fairly weak defense corpse consisting of Mark Streit, Braydon Coburn, Andrew MacDonald, Niklas Grossmann, Luke Schenn, and Nick Schultz.
Sure, that doesn't sound very good but do you see any elite offensive defensemen with names such as Weber, Jones, or Ellis?
Del Zotto comes into Philly with a chance to take the reins offensively. He can become that 41-point guy he was with the Rangers. The opportunity is staring him in the face.
And if it doesn't work out…who cares? It is worth the GAMBLE, as it's only a $ 1.3M, one-year contract.
This has worked out in the past. Just think about Mason Raymond last season with the Toronto Maple Leafs. Raymond put up two strong seasons in Vancouver (53 points and 39 points respectively) before seeing his production plummet. He was eventually chased out of town.
He became a UFA and was signed by the Leafs prior to the start of last season. A simple one-year, $ 1M contract that proved to be a huge success. Raymond was welcomed with open arms in Toronto and went on to post a 19-goal, 45 point season.
Sometimes you just have to give a guy a chance. Del Zotto is only 24 years old and has his whole career ahead of him. A player with that kind of offensive talent doesn't just turn into a complete bust. He showed his potential before, and will get a chance to do it again in Philadelphia.
This could be the steal of the 2014 NHL offseason.