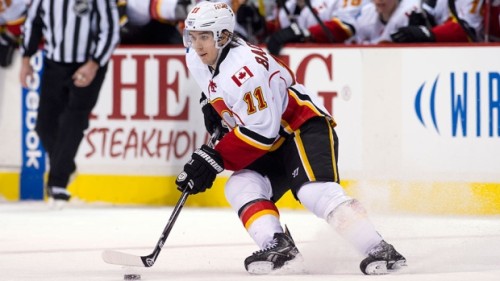 Brad Treliving wasted no time signing a player he clearly believes will be a big part of the Calgary Flames' future as he re-upped with Mikael Backlund May 20.
The contract is for three years and, considering his performance in recent years, is worth a reported $3.575 million per season. Backlund, 26, has spent parts of seven seasons in Calgary, playing 298 games with the team since debuting in 2008-09, while recording 51 goals and 128 points in that span.
The contract is surprising not just because of the lack of production Backlund has provided – he has averaged less than half a point per game in his career – but also because of his health issues. He missed 30 games in 2014-15 due to injury, and in seven years in the NHL he has never played a full 82 games, coming closest when he played 76 games in 2013-14.
Not coincidentally, that season was his best as a pro as he put up career highs in goals (18), assists (21) and points (39). But considering the fact he hasn't been able to consistently produce – or stay healthy, for that matter – this is an awfully pricey gamble for Treliving to take.
Not only has his production lagged, but with Sam Bennett on his way up and a plethora of other centres – something the Flames are in no shortage of – already on the roster, it seems likely Backlund will be a well-paid third liner. Perhaps the belief is he is on the rise, but to this point in his career there has been little to suggest that is the case (although there is still time to prove otherwise).
On the positive side, signing Backlund this early leaves Treliving with less work to do as free agent frenzy (July 1) approaches. The Flames head into the summer with nine free agents currently on the NHL roster, including Josh Jooris and Michael Ferland up front (both RFAs), as well as UFAs Corey Potter and David Schlemko on defence and UFA goalie Karri Ramo.
With six defencemen already under contract, that leaves more time to focus on the forward situation where only 10 players are currently under contract. As mentioned there are a couple of free agents likely to be signed, but decisions will have to be made in terms of which players to bring back in depth roles.
Goaltending, however, may give Treliving the biggest headache as the Flames already have Jonas Hiller signed, as well as Joni Ortio and Jon Gillies, each of whom could move up to the NHL as a capable backup next season. But Ramo had a great 2014-15 season, which would make it tough to not re-sign him and let him go for nothing.
Safe to say it will be a busy summer for Treliving and co.