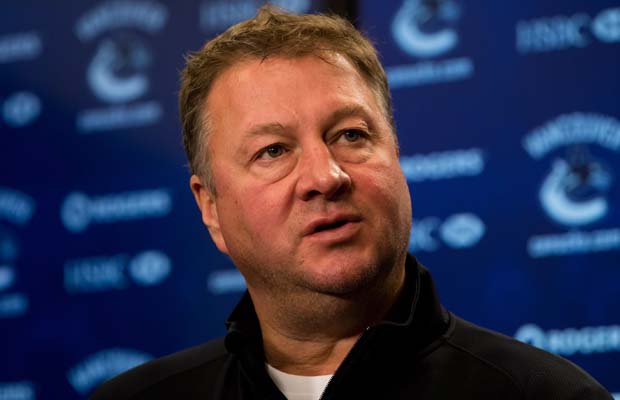 Vancouver Canucks GM Mike Gillis made a decent move a few days ago by acquiring Raphael Diaz from the Montreal Canadiens for Canucks grinder Dale Weise. The question I put out to the readers was, Has Mike Gillis helped the Canucks become a better team? He's made them a better team to an extent, but he hasn't got them a championship. Don't get me wrong, he's added the right pieces to the puzzle before and made the Canucks a championship team (2010-11 & 2011-12 President Trophy winners). Every GM makes mistakes and every GM makes good moves, and Gillis has done both.
The worst situation Mike Gillis handled was the Luongo/Schneider drama that occurred last season and concluded abruptly at last year's draft. He lacked good communication with both goalies and ended up with a bigger conundrum after Cory Schneider was traded for the 9th overall pick. There was a lot of speculation that Luongo didn't want to attend training camp to start the 2013-14 season. If that happened, Gillis would be in an even deeper hole than he was before the draft with both goalies. So he got out of that okay, I guess.
He's done a decent job of signing players that fill certain roles on the team (Malhotra, Lapierre, Higgins, Santorelli, Hamhuis, Garrison etc.), but the problem with some of the recent signings is that he slapped on no-trade clauses to some of the contracts, which has left the team this season with a huge hole to fill in at forward while injuries pile up.
Without a doubt, the Canucks GM has a problem with trades. The worst deal of his GM career in Vancouver has to be the one where he traded for Keith Ballard and sent back Michael Grabner and a 1st round pick. Grabner, who eventually got put on waivers from the Florida Panthers, quickly got claimed by the New York Islanders and put up 34 goals in the 2010-11 season.
If Gillis wants to turn the ship around in Vancouver and turn the team into a contender at the very least, he will have to start re-tooling this season bit by bit and hope for good results. If not, I don't see why he should have a job next season. Like a popular song goes, Mike Gillis say something, because Canucks fans are giving up on you.