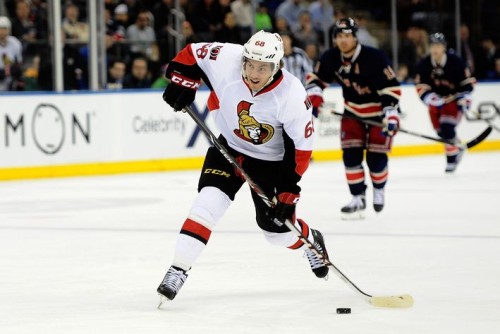 The Ottawa Senators asked a question of Mike Hoffman this off-season that would have huge implications on his future with the organization: Can you do it again?
As a 25-year-old on an NHL roster for the first time, Hoffman had a shockingly productive 2014/15 season, leading the Sens in goals (27) and finishing fifth in points (48). But as good as his final stat line was – and it truly was impressive – it was overshadowed by an underwhelming final six weeks of the regular season, during which he had points in only seven of 22 games.
Such is why the Sens were unwilling to give Hoffman the $3.4 million he sought in arbitration, offering a conservative $1.75 million instead. Of course money was a concern – haphazardly throwing around multi-million dollar contracts, given the limitations imposed by the salary cap, isn't smart strategy – but the bigger concern was knowing exactly who they were getting.
In Hoffman, the Sens were looking at a player with tremendous offensive upside, whose play in the defensive zone still had room for improvement and, above all else, who was still unproven. Suffice it to say the Sens were looking to get a lot more out of their sophomore sniper in 2015/16 – a challenge he has accepted without hesitation.
In the season opener against the Buffalo Sabres he offered up a taste of what was to come, recording two assists in what was a six-point night for him and his linemates. It took four games before he finally netted his first goal of the season, but the slow start hasn't hindered his stat line as his eight goals are tied with Bobby Ryan for second on the team.
One of the concerns with Hoffman last season was his inability to have an impact on the game when he wasn't scoring, but he has poured cold water on that early on this season. In the midst of a six-game goalless drought in November, he showed his ability as a playmaker when he registered four assists to help the Sens pick up eight of a possible 12 points in those games.
But make no mistake: Scoring is the hallmark of Hoffman's game. That he's a triple-threat in the offensive zone – able to locate his snap shots with surgical precision, utilize his lightning-quick wrist shot from anywhere on the ice and deliver booming slap shots that rival some of the best in the league – only adds to his value.
It's also Hoffman's offensive dynamism that has made him a regular on the Sens powerplay, often on the point where he can best ply his trade. Through 18 games he has already registered three goals with the man advantage (two more than he had all of last season), and five of his eight goals overall have come via the slapper.
Aside from the obvious offensive prowess in his game, Hoffman has also shown considerable improvement in his ability to protect and pursue the puck. Overall he has 10 takeaways compared to only six giveaways, which puts him on pace for a plus-17 turnover differential that would outdo the plus-12 he finished with last season.
Given the way he closed out last season, consistency will be the ultimate determinant in whether or not he even re-ups with the Sens. If he can continue to play the way he has, however, the question won't be if he resigns, but for how much.
Love Reading About Hockey?

Subscribe to keep up-to-date with the latest and most interesting hockey news!
| | |
| --- | --- |
| | We hate spam just as much as you |