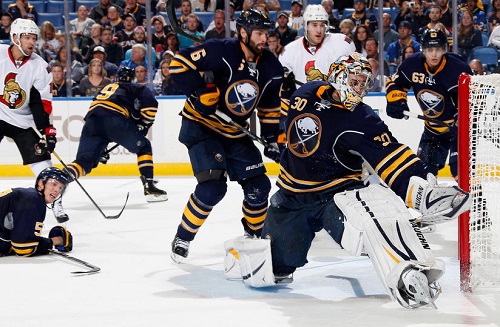 Last year at this time, the players and owners were fighting over money. This year, that is not the case. The NHL is in full-swing and fans are very excited for the upcoming season. The Buffalo Sabres have a few issues this season but none might be greater than Ryan Miller. It's not that Miller is playing poorly; it's the fact of if they can re-sign him.
Through 2 games in this young season, Miller has not won a game. However, it is not his fault. Miller has a 1.53 GAA. He has stopped 77 of 80 shots which is good for a .963 save percentage. Miller has kept the Sabres in games against the Detroit Red Wings and Ottawa Senators. In fact, Miller made 45 saves against the Senators on Friday.
Where is the offense? Buffalo only scored once in its first 2 games. Rookie Zemgus Girgensons scored in a fluky situation in the season-opener vs. Detroit. That's it, one goal. How are you suppose to win games when you can't score? It is going to take a few games, or perhaps the first month before the Sabres really start playing well.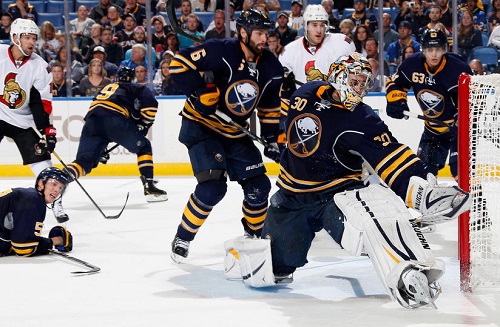 Miller will play well this year. He is trying to make the Olympic team which he started for in 2010. In addition, he is in a contract year and knows if he plays well, he will be rewarded with a huge contract. The way the Sabres are playing right now, it reminds me of the Dominik Hasek days. Goalie plays out of his mind, but the team scores 1-2 goals. This is only successful if the Sabres are on the WINNING side of 2-1 and 1-0 games.