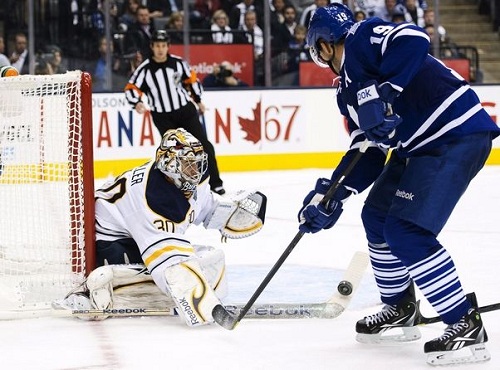 Ryan Miller and the Sabres continued their strong play with a 2-1 win over the Toronto Maple Leafs. Miller turned away 34 of 35 shots and made several key saves in the win. "They are a fast team" Miller said but "we played smart".
Buffalo would get on the scoring sheet first as Cody Hodgson tipped in a Christian Ehroff shot to make it 1-0. The Sabres were hampered by penalties in the 1st period, taking 6 of them. However, the Sabres penalty-kill was strong, killing off all those penalties.
The Sabres top line would strike again in the 2nd period. Vanek came up ice for a 3-1. He made a great pass to Jason Pominville who beat goaltender Ben Scrivens to make it 2-0.
The only blemish for the PK unit was a fluke late power-play goal in the 3rd period by Nazem Kadri. Mike Kostka sent a shot toward the net, it careened high above the net, ricocheted to Kadri in front and he banged it in. The Leafs had a few quality chances at the end but it was all Ryan Miller at the end of the day.
Lindy Ruff is pleased with the way his team is playing. "We gotta be a tougher team to play against" said Ruff. Players are sticking up for each other. The "softness" that was displayed last season is gone. The Sabres blocked 17 shots, almost twice as many as the Leafs.
The Sabres will have a few days off before they travel to Carolina to play the Hurricanes on Thursday 7:00.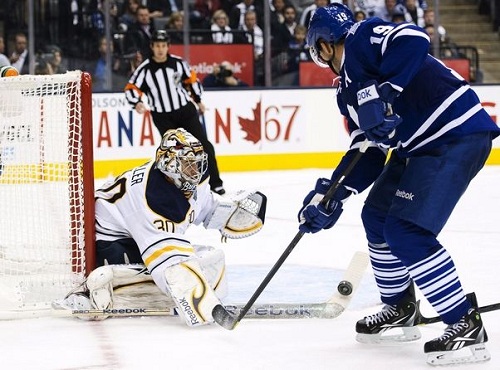 Game Notes:
The Sabres top line of Thomas Vanek (2g-4a), Jason Pominville (1g-4a) and Cody Hodgson (2g-0a) has 13 points in the first two games of the season and certainly has set the tone for the team.
The Leafs won 45 of 64 faceoffs during the game with Tyler Bozak winning 22 of them.
Steve Ott led the game with 7 hits.
Sabres forward Ville Leino is day to day with a lower body injury.