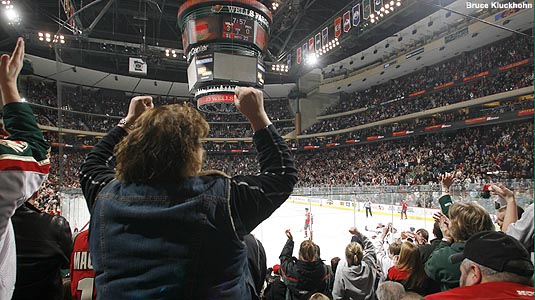 Hello there, fellow Wild fans!
We are now under a week until the regular season gets underway!
Before that though, each of us here at HOHM will be giving you previews for each team, with me of course doing that for the Wild.
Last season, the Wild once again had a 2nd round exit thanks to a sweep by the eventual cup champion Chicago Blackhawks. The Wild are of course looking to get past the 2nd round for the 1st time since their 1st-ever magical playoff run in 2003.
Key additions:
Mike Reilly (Defenseman, Minnesota Golden Gophers)
Tyson Strachan (Defenseman, Buffalo Sabres)
Chris Porter (Left Wing, St. Louis Blues)
Key subtractions:
LW Matt Cooke
D Jordan Leopold
D Keith Ballard
LW Sean Bergenheim
Perhaps the biggest, and most important move that the Wild made during the offseason was resigning goaltender Devan Dubnyk. Dubnyk was picked up this past season in January, while the Wild were in the midst of their mid-season slump. Dubnyk, who was then playing for the Arizona Coyotes, was picked up by the Wild in early-mid January. He literally saved the Wild's season, going 27-9-2, and ending up with a 1.78 goals against average and .936 save percentage (note, these stats from last season do include some games with the Coyotes as well).
In terms of their core players, nothing much has changed. If the performance from these players last season and into this preseason is any indication, I say that us Wild fans are in for another good year for them.
I expect some of our youngsters to have a breakout season too, as they basically ready for it now. I especially see that happening for center Mikael Granlund, who is now entering his 3rd season with the club. With the skills that he has, I think he could possibly see a 50-60 point season from him. Coyle could be due for a breakout year too. He had a fairly decent 2014-15, getting a total of 37 points over the course of the regular season and playoffs combined.
With all this being said, the Wild rely heavily on their younger players, as well as their veterans. Such players as Granlund, Niederreiter, Zucker, Coyle, and Dumba are looking to step up and contribute more, as they are shaping the future of the team.
The only question that remains though is if Dubnyk could play as well as he did last season. We only saw a sample of him when he came over to the Wild from the Coyotes, but we'll get to see more of him with his 1st full season as a member of the Wild. It's very unlikely that he'll repeat his .936 save percentage from last season, but we should expect numbers pretty much close to that if the sample size we got from last season is any indication.
As always, the central division will be a dogfight, as it is the most competitive division in the entire NHL. Besides the Wild, almost every other team in the division, especially teams like the Predators, Blackhawks, and Blues, is loaded with talent. If anything, I'm predicting that the Wild will finish higher than the 2nd wild card spot they finished in last season. That won't be an easy feat though, as the Blackhawks still have a lot of core talent (as do the Predators), and the Stars got a lot better thanks to acquiring left winger Patrick Sharp and defenseman Johnny Oduya from the Blackhawks.
My hopes for the Wild are that they're going to build off of the past few seasons and make it into the playoffs for the 4th consecutive year, but finally find a way to make it past the 2nd round and into the conference final for the 1st time (and only their 2nd time) since 2003.
The Wild will open up their 2015-16 season this Thursday in Denver against the Colorado Avalanche.
Love Reading About Hockey?

Subscribe to keep up-to-date with the latest and most interesting hockey news!
| | |
| --- | --- |
| | We hate spam just as much as you |