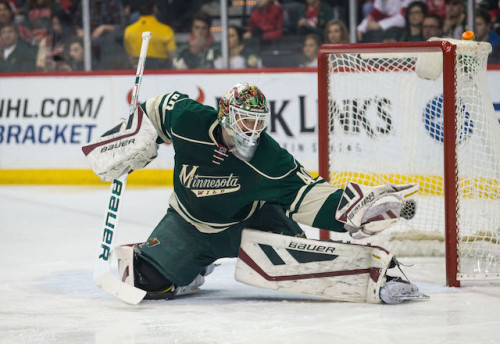 As most of you may have noticed, free agency has been quite interesting so far this year..
Free agency is still going on, but it seems like the Wild are done with their free agency stint.
With that in mind, let's take a look at what the Wild did in this year's free agency period.
The 1st few signings the Wild made were contract extensions for players they already had, and that started on July 1st with Finnish forward Mikael Granlund. Granlund got resigned to a 2-year contract, and will now be entering his 4th year with the Wild.
The next signing, also on July 1st, was the resigning of defenseman Nate Prosser. Last year, Prosser was temporarily a member of the Blues as they claimed him off waivers from the Wild. The Wild would then reclaim him and he has now been resigned to a 2-year contract, just like Granlund.
On that same day, the Wild also signed Gopher defenseman Mike Reilly to a two-year entry level contract, resigned center Ryan Carter to a 1-year contract, Sabres forward Zac Dalpe, and left wing Rusian Fedotenko (last played in the NHL in 2012-13 with the Flyers) to 1-year, 2-way contracts, and left wing Marc Hagel to a 2-year, 2-way contract.
The Wild were then quiet for a few days, until July 4th. They made the move everyone was hoping for in resigning goalie Devan Dubnyk to a 6-year, $26 million contract. After bouncing around from various teams, namely the Oilers, Predators, and Coyotes, the Wild then picked him up in this year's trade deadline. He was literally the saving grace for the Wild, as he helped to push them into the playoffs for a 3rd consecutive year.
Overall, I thought it was once again a decent year of free agency for the Wild. Not anything spectacular like last year's signing of Thomas Vanek, or the signing of Zach Parise and Ryan Suter in 2012, but the Wild really didn't have that kind of money to blow because of now 37-year-old goalie Niklas Bäckström having to undergo surgery. The biggest/best move the Wild made this year was the resigning of Devan Dubnyk.
All of this didn't come without the loss of some players though. On July 2nd, forward Kyle Brodziak was picked up by the Blues, and on July 12th, forward Chris Stewart was picked up by the Ducks.