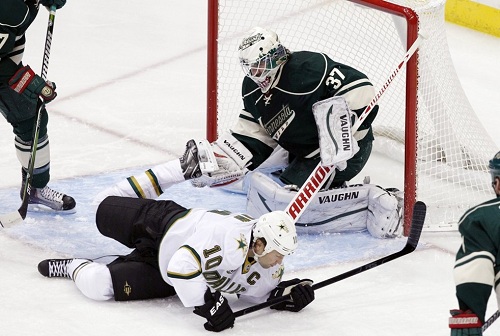 Reviewing the Minnesota Wild's 1-0 victory over the Dallas Stars —
The Minnesota Wild, led by goaltender Josh Harding and forward Zach Parise, shut out the Dallas Stars 1-0 on Sunday night. This victory was especially sweet for Harding, as this marked his first NHL game since being diagnosed with Multiple Sclerosis. The fact that he was able to shut out the Stars, while playing in his first game with the disease, is a remarkable story and accomplishment.
Zach Parise, hometown hero, scored his first goal as a member of the Minnesota Wild to stake the Wild to a 1-0 lead. The goal, scored on a rare 4-on-3 man-advantage halfway through the first period, was the Wild's third power play goal of the young season and was all the scoring the Wild would need on this night. What, with Josh Harding playing superbly between the pipes all game long.
This night belonged to Harding win-or-lose. Making his first appearance in a Wild sweater since being diagnosed with M.S., Harding stopped all 24 Dallas Stars shots he faced, to record his 7th NHL shutout. His biggest save came with about a minute to play; as he denied Ray Whitney's attempt from the slot, which preserved the Wild's slim 1-0 lead.
Three Stars Of The Game:
1st Star: Josh Harding- Harding is an obvious choice for the star of the night. He was able to blank the Stars in his first start since being diagnosed with M.S. Congrats Josh, you deserve all the kudos and recognition for your performance that I'm sure you will receive.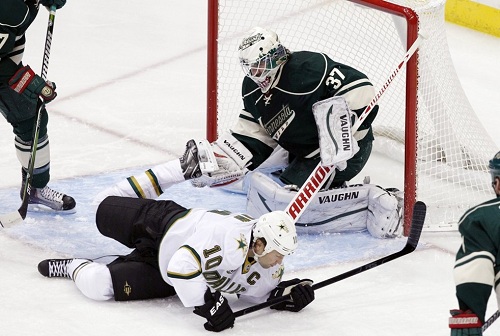 2nd Star: Zach Parise– Parise scored his first of hopefully many goals as a member of the Wild. He also displayed the talent, speed, and hard work that he is known for.
3rd Star: Cal Clutterbuck– Clutterbuck led the Wild with 5 hits in this game, and tied for the team lead with 5 shots-on-goal. He appeared to have the most energy of any player on the ice in this contest.
Game Thoughts:
This game was a defensive struggle throughout, as both teams were unable to generate any sort of consistent offensive pressure.
The majority of the game was played in the neutral zone. Once the Wild scored to go up 1-0, they seemed especially content to play a defensive orientated game.
Both teams lacked energy at times, which was to be expected since both clubs were playing their second game in two nights.
The Wild were the benefactors of a fortunate break that afforded them the glorious opportunity to score their first and only goal of the game: A Star's defenseman broke his stick while his team was on the wrong end of a 4-on-3 penalty kill. That incident resulted in Pierre Marc-Bouchard having all day to find Zach Parise for a one timer, which he buried for the game's lone goal.
Josh Harding played fantastic in net and deserves all the recognition he rightfully will receive. But Dallas Stars netminder Cristopher Nilstorp played fantastic in defeat, and deserves some recognition for his performance as well. Nilstorp, making his NHL debut, made 31 saves and allowed just one goal in defeat. In my opinion, he looks like he should, at the very least, be a solid NHL backup.
Jaromir Jagr looked good on the ice as well. Yes, he failed to produce a point, but the X-CEL Energy Center is the only current NHL rink he has yet to pot a goal in. Jagr, who has scored in the most arenas of any player in NHL history, looked like he will be a solid offensive presence for the Dallas Stars this season. He just has such good vision of the ice and such deft hands, that it doesn't matter if he has lost a step or two.