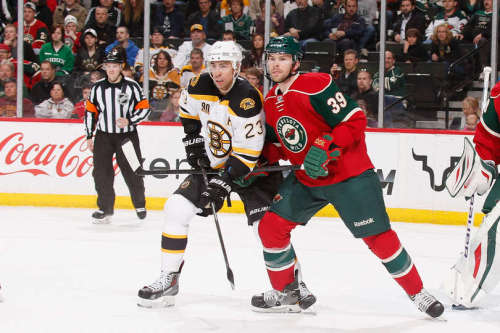 While last night's 5-4 loss to the Rangers was tough, the bright side to this is that the Wild get to redeem themselves right away. This is our first back-to-back of the season, and tonight, the Wild made the short trip to Boston to take on the Bruins.
Last season against the B's, the Wild managed to win 1 of the 2 contests, the loss coming in Boston (4-1 was the final score there), and the win came at home in the shootout 4-3.
The Bruins are a tough team for almost anyone to play against, so to say that this is a huge test tonight for the Wild is an understatement. They have some great players in Zdeno Chara, Patrice Bergeron, Milian Lucic, David Krejci, and Brad Marchand just to name a few. Oh, and let's not forget about Tuukka Rask, their primary goaltender. He won the Vezina just this past season, and his performance was worthy of that.
I liked what I saw from the Wild last night through the first 2 periods of that game, but the thing that killed us was those 5 goals the Rangers scored in the 3rd period to come from behind to win it. Along with that, the Wild still have yet to score on the power play (they're now 0 for 25 I believe). The fact that they didn't capitalize on either of those 2 5-minute power plays just bewilders me. As mentioned before, the Wild have averaged 2 or more shots on goal on every power play opportunity they've had thus far, but still with nothing to show for it. We've gotta score on it sometime, right? Will it happen tonight? That's a toss-up.
With this being the game completing this back-to-back, Backstrom will be expected to get the start in net. While he lost his first game of the season last Sunday against the Kings, he didn't look all that bad. That being said though, he's going to have to be solid in order to keep us in this game along with our defense.
For those who don't know, tonight's game will be nationally televised on NBCSN, with the same start time as last night's game, 6 PM central time.