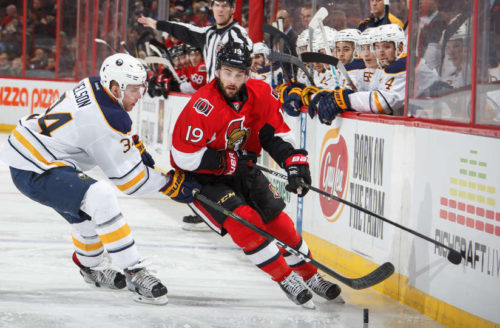 Rare is the team that can start the season with eight wins in the first five weeks, drastically improve it's shot differential and hold down a playoff spot, yet worry about where its offence will come from on a nightly basis. But the concerns are not unfounded as the Sens have struggled to score on a nightly basis, largely a product of their top players underperforming.
Well, we're 14 games into 2016-17 now – nearly one fifth of the season gone – which, in other words, means it's time to stop making excuses such as "It's still early" and "They'll figure it out eventually," because the season is no longer still young and "eventually" won't cut it if the Sens want to remain among the top three in the Atlantic Division.
Think of the team's production thus far as an office during the dead summer months: You have your steady executives – Erik Karlsson and Kyle Turris – your overachieving interns – Ryan Dzingel, Tom Pyatt and Chris Kelly – and your should-be-criticized-for-underperforming but get-a-free-pass-while-the-team-does-well employees.
It's the latter group, one that includes the likes of Mike Hoffman, Bobby Ryan, Derick Brassard and Mark Stone – i.e. Ottawa's four highest paid forwards on the active roster – that is most concerning. Hoffman has done well to change his fortunes from early in the season when he was severely snake-bitten, but his three goals are nonetheless disappointing.
Even so, the numbers point to an imminent breakout: He ranks tied for 10th in shots with Tyler Toffoli, but among players with at least that many shots he has the fewest goals (three). While Hoffman seems to be turning a corner on his season, the rest of the aforementioned group of players continues to be stagnant.
Ryan and Brassard, two players who were teamed up with the hopes of helping the former re-gain the scoring touch that made him a 30-goal scorer in Anaheim, have combined for just 4 goals and 12 points. Even more concerning is Brassard has just one goal, perhaps stemming from his conservative shot selection that has Guy Boucher urging him to shoot more.
Stone, meanwhile, isn't just cold in the offensive zone, but his defensive play is also suffering. After totaling 226 takeaways the past two seasons (including 128 last season alone) and earning a reputation as an emerging and serious two-way threat, Stone has just two goals (five points) and 12 takeaways in 13 games.
Then there are the likes of Zack Smith, Jean-Gabriel Pageau and Cody Ceci: role players in their own right who were expected to provide timely contributions. And yet, in keeping with the trend, Smith and Pageau have struggled out of the gate after achieving career highs in goals last season (25 and 19 respectively), while Ceci has managed only two assists.
Fortunately, as mentioned, the trio of Karlsson, Turris and Dzingel have, in conjunction with some timely goaltending, done enough to keep the Sens competitive at 9-5-0. And while Karlsson is likely to maintain – perhaps even improve upon – his 0.86 points-per-game pace, Turris's 20 and Dzingel's 23.8 shooting percentages will be much tougher to sustain.
That's why it's so important for the rest of the Sens to get it going. Not just the supporting cast, who have done yeoman's work thus far, but the players who are paid to be catalysts.