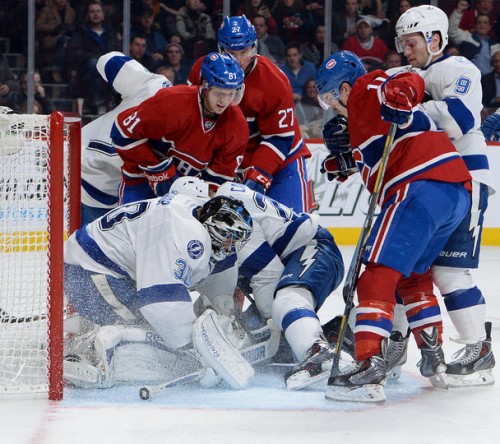 The Montreal Canadiens are the only Canadian team to make the playoffs this year. That hasn't happened since the 80's. And a Canadian team hasn't won since the Habs did in 1993. If Montreal wants to end that 21 year drought, they first have to get through Steven Stamkos and the Tampa Bay Lightning. Although Tampa has home ice, Montreal is not an underdog in this series and if they stick to their game plan, should be able to come out on top.
The teams played each other four times, with every game ending 2-1 (except for one that saw Tampa score on the empty net). Tampa won three of the four but the degree of separation between the teams was almost non-existent. The teams were so close in fact, that if Montreal had won any of those three games, they would have had home ice in this series. Needless to say, this is going to be a close series between two good teams.
Tampa was carried by a Vezina worthy season from Ben Bishop but Montreal has an equal strong man in their net. Carey Price was stellar all year and easily the Habs' MVP. Price posted career bests in goals against average (2.32) and save percentage (0.927) while finishing second in the league with six shutouts and sixth in wins with 34. Price is calm and confident right now, as seen from this save on Tampa's Victor Hedman earlier this season.
In front of Price, Montreal has a solid defence corp that will play tough against Tampa's stars. The defence has a little bit of everything, led by the offensive PK Subban and Andrei Markov. Head Coach Michel Therrien has given limited ice time to Subban for turnovers, but his contributions on offence are too important to ignore. His 53 points were second on the team and were key to getting them to the playoffs.
Markov has been no slouch though, putting up 43 points for fifth on the team. The return of Josh Gorges from injury and Doug Murray from suspension gives the Habs more depth to play with Mike Weaver and Alexei Emelin. Montreal's defence has lots of experience and is very defensive minded which will help keep Price's workload minimal.
On forward, Montreal doesn't have anyone who matches the pure scoring ability that Stamkos does. But Max Pacioretty and Thomas Vanek will try. Along with centre David Desharnais, this line has been nothing but goals in the 18 games since the trade deadline. Pacioretty finished the year with 39 goals and 60 points to lead the team, with Vanek not far behind with 15 points since being acquired from the New York Islanders. This goal shows Pacioretty's speed and power that will be a big asset for Montreal in the playoffs.
Brendan Gallagher with Tomas Plekanec and Brian Gionta will bring strong secondary scoring and defensive play. But it will be Montreal's third line, with Brandon Prust, Travis Moen and Dale Weise, that will be asked to shutdown the Tampa top scorers. These three can hit and block shots, while being expected to kill penalties and drive Stamkos crazy. If the third is as effective as they were earlier in the month before Prust and Moen were injured, then Montreal will have a solid group of forwards. Alex Galchenyuk will sit out the first round with a lower body injury, but Montreal is deep enough on forward to cover for their young star.
Tampa surprised everyone by improving from 28th to home ice in the playoffs in only one year. But Montreal probably surprised a lot of people by showing the shortened season wasn't a fluke. Both teams showed throughout the year that they should not be counted out of these playoffs yet and it should lead to some exciting games.
The difference could come down to goaltending. Bishop suffered an upper-body injury in early April and it is still not clear if he can play. If he doesn't, Montreal suddenly has a big advantage on the last line of defence that could seal them the series victory.