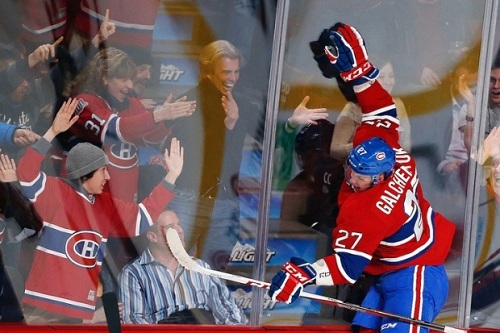 The Montreal Canadiens got into the win column Tuesday night with a strong 4-1 win over the Florida Panthers. Players that needed to score did, with Andrei Markov picking up two goals and rookie Alex Galchenyuk picking up his first career goal. Montreal also benefited from a ton of powerplay chances, connecting on two of their six chances. They did get a scare in the third when they fell into penalty trouble, but goalie Carry Price and the penalty killers stood tall and kept the lead in place. Montreal needed this win after losing 2-1 to the Toronto Maple Leafs on Saturday and they got it in prime fashion against Florida.
The Canadiens started the game out quickly and were playing as a team the way the best teams do; passing and finishing checks. And the quick start paid off with Tomas Plekanec opening the scoring at 3:26. Brian Gionta and Raphael Diaz picked up the assists, a veteran and sophomore player both contributing. The goal was a perfect representation of the teamwork Montreal needs to have in order to be successful.
Then the powerplays started coming. Brian Campbell and Stephan Weiss took penalties for the Panthers and with Weiss in the box, Montreal capitalized. Markov, who hadn't scored since Nov. 9 2010, fired a hard slapshot past Scott Clemmensen to give the Habs a 2-0 lead. That's how the first period ended, a strong period from the Canadiens that they would use as momentum for the rest of the game.
The second period started off slow for Montreal, with Diaz and David Desharnais taking minors for stick infractions that weren't really necessary. Desharnais' ended up costing the team (and Price) a shutout, with Tomas Kopecky scoring on the powerplay. Price had no chance on the goal, a cross-ice one-timer, but Montreal didn't falter when their lead was cut in half.
Less than four minutes after Kopecky scored, Montreal would return with one of their own. It was Markov again and he looked like his old self (the one from 2010) before he was injured. His hard slapshot brought the fans at the Bell Centre to their feet. Markov's return to greatness showed that once PK Subban comes back, Montreal is going to have a strong back-end on the powerplay.
"Every goal and win is special," Markov said after the game. "I'm happy to be back and happy to be healthy and I'm just enjoying playing, especially here in front of our fans."
Markov may have gotten the Montreal fans excited, but it was young Galchenyuk that would be the guy they talked about after the game. He wasn't a star in his first game, eventually being benched in the third period. That was very different here. With Florida taking lots of penalties in the second, and with Montreal up by two goals, Galchenyuk took a regular shift. And he contributed. The 18 year-old threw some hits, took some shots, and eventually that hard work paid off.
Seconds after another Weiss penalty ended, Galchenyuk tipped a Brandon Prust shot over Clemmensen and into the goal. It was a goal that showed his determination and it will make Head Coach Michel Therrien's decision to keep him all that more difficult. Galchenyuk still has three games to prove he belongs in the NHL permanently, and his performance Tuesday showed that he is ready.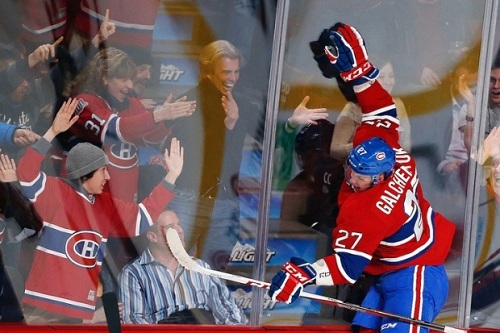 "To have a crowd like that was just phenomenal," Galchenyuk said. "It was nice to get the first one out-of-the-way."
That ended the scoring for the game, but Montreal did get into some penalty trouble that will need to be addressed before their next game. Ryan White made a dumb decision to sucker punch Tomas Fleischmann multiple times after the forward hit Josh Gorges. White was given an instigating penalty (2, 5 and 10 minute penalties) and left the game while being yelled at by everyone on the Panthers bench. Although they killed the penalty, it was an ugly play that the Canadiens can't afford to have happened very often.
The Canadiens now find themselves with a 1-1-0 record and right in the middle of the pack. It is still early to talk playoff races, but in a short season, every game counts. Montreal took that to heart against Florida and came out on top. They will look to continue create a winning streak on Thursday, when they travel to DC to play the Washington Capitals at 7 p.m. EST.