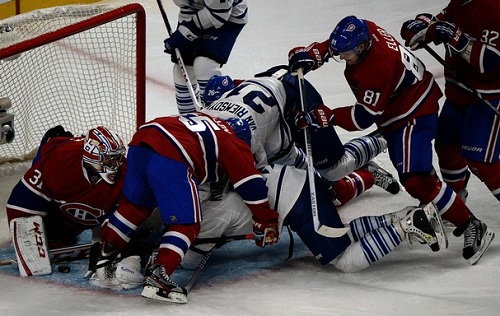 NHL hockey returned to Montreal on Saturday but unfortunately for Habs fans, the night ended with a 2-1 loss to their rivals the Toronto Maple Leafs. Montreal fielded their entire roster, but it wasn't enough to win. Even without winning there was some positives to come from the game. And as I wrote about in their season preview, Montreal is still poised to move up as the season goes on.
Montreal's top player in the game was easily Carry Price, who looked like he was in mid-season form. Making 24 saves on 26 shots, Price kept the game close. Even when the Leafs had a two goal lead, Price stood tall and gave his team a chance to make the comeback. And like a veteran player, the 25 year-old Price was critical of his team after the loss.
"It definitely wasn't smooth, by any means," Price told the Canadian Press. "It was kind of sloppy."
The Habs will need Price to continue to play this good. He kept them in the game and will give them a chance to win every night.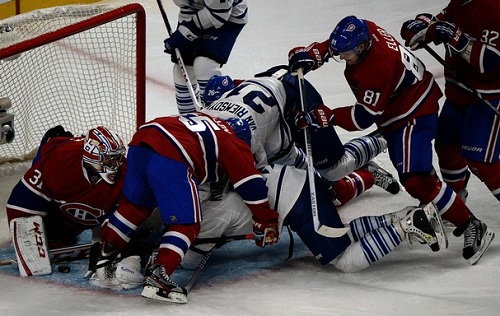 Another positive note for Montreal was team captain, Brian Gionta. After missing the final 40 games of last season with a bicep injury, Gionta returned and scored the Canadiens only goal. Skating with rookie Alex Galchenyuk and Tomas Plekanec on the second line, Gionta looked healthy and in shape, which is good news for the Habs.
Gionta also had some criticisms after the game.
"Our timing was a bit off but it looks that way when you're not supporting the puck — it looks like you're off," he told the Canadian Press. "I think the biggest thing was we were too spread out. We weren't supporting the puck carrier or the battles in the corner and we made it easy for them."
The 18 year-old Galchenyuk looked good in his NHL debut, getting a couple of scoring chances and drawing a penalty. But once the third period started he was replaced on the second line by Rene Bourque in an attempt to spark the offense. Galchenyuk can be sent back to Sarnia of the OHL before he plays six NHL games, and it appears Montreal hasn't decided if they are going to do that. Playing among their top six will get him some experience, but so will being a top scorer in junior hockey. Either way, Galchenyuk will eventually become a star for the Canadians, just how soon is still unknown.
There was also a big hole in the lineup for Montreal, as PK Subban still hasn't signed a new contract. The face of the franchise and easily their top defenceman, Subban would have given Montreal an even better chance to win and his skills were missed. Andrei Markov returned to provide offense and Francis Bouillon for defense. But those older players lack the energy Subban has and were mostly non-factors in the game. There continues to be disagreements on the length and term of Subban's new deal. Which means it could still be a while before it gets settled.
All in all, it was a strong effort for the Canadians. They put up 22 shots and finished the game strong, almost tying the game late. After the game, Coach Michel Therrien did have some positive things to say.
"It was a step in that direction. We wish it would have been perfect," Therrien said. "We have some work to do, but it was a step."
An important first step in this shortened season, and in the rebuild of the Montreal Canadiens.