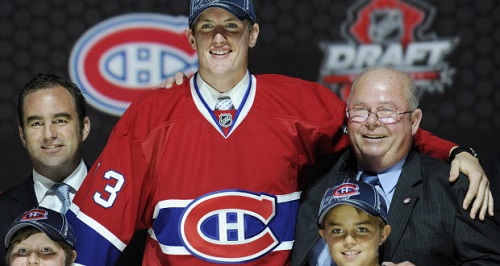 Critics of the Montreal Canadiens this season said that they weren't big enough. Those critics should be silent now. With the 25th pick in Sunday's NHL Draft, the Canadiens selected forward Mike McCarron, all 6'5 230 lbs of him. But who is Mike McCarron? Let me introduce you to him.
McCarron, 18, grew up nine miles from the Detroit Red Wings arena in Gross Pointe Michigan. So naturally he played and watched a ton of hockey. At age 14, he played for the Honeybaked U16 team in Michigan, picking up 12 goals and 28 points. The Honeybaked program has produced plenty of NHL stars including Ryan Kesler, David Booth and Tim Gleason so to make the team at 14 is a big feat.
Two years later, he moved onto the US National Team Development Program in Ann Arbor Michigan. It was here that he started becoming a checking forward and saw his offence numbers go down. He still picked up six goals and 21 assists, but added 128 penalty minutes in 58 games. That's the toughness the Habs were looking for.
Last year, he continued to play for the Development Program, including the U18 World Juniors Championships in Russia. He claimed a silver medal in that tournament and scored a goal in the US's 3-2 loss to Canada. In 55 games for the US Development Team, he saw his number's go up, with 14 goals and 20 assists, plus 180 penalty minutes. With those numbers, he entered the draft ranked 35th among North American skaters. NHL Central Scouting Director, when ranking him 35th, wrote:
Michael has a strong game down low. He can cycle the puck to the net and offers a wicked shot. He's playing with confidence. He's recently shown to be able to go out there and actually dictate the play. He's got soft hands for a big man and complements that with good puck handling and skills.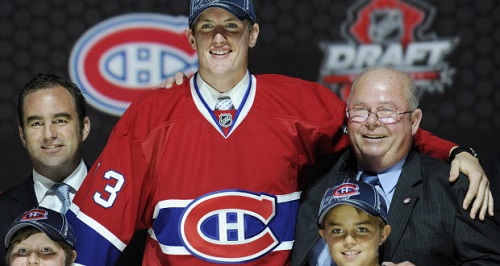 And Montreal's GM Marc Bergevin felt those skills were what his team was missing.
"He's a big man, with decent hands and willing to go to the dirty areas," Bergevin said. "That was a need we felt we needed to address."
Montreal's head scout Trevor Timmins also praised McCarron.
"For a big man he skates well, really well," Timmins said. "He's a guy who's development has risen and will continue to rise."
And what does McCarron think of going to the Habs?
"It's surreal, I didn't even know it was going to happen," he told Habs TV. "It's even more awesome that the Habs picked me, being an original six team and with such a winning program, it's so special to be part of it."
With his big size, McCarron has been compared to players like Mike Rupp and Brian Boyle. But he had someone else in mind.
"I always say Milan Lucic," he said "I feel like I can play on the fourth line or the first line to crash and bang. That's who I try to play like."
There is still a lot of development left for McCarron. Don't expect him to instantly make the jump to pro like Alex Galchenyuk did last year.
In fact, he still has to decide where he will play next year with both Western Michigan University and the London Knights. Neither Bergevin or Timmins didn't hint at where they thought he should go.
"It's going to be up to him, I'm going to have a discussion with him," Bergevin said. "Yeah I have preference but I want to share that with him first."
"It's up to the player to make that decision, both programs would benefit him," Timmins added. "I don't want to voice my opinion."
But McCarron hasn't made up his mind yet.
"I'm still waiting to make the decision," he said. "I'm going to talk to the organization here and see what is best for me."
Wherever he plays next season, McCarron will use that ice time to continue to hone his skills. And if he can bring a Milan Lucic style to the Habs down the road, Montreal fans will be really excited.
Sources: NHL.com, Last Word on Sports.com, Hockey's Futures.com, and Habs TV.