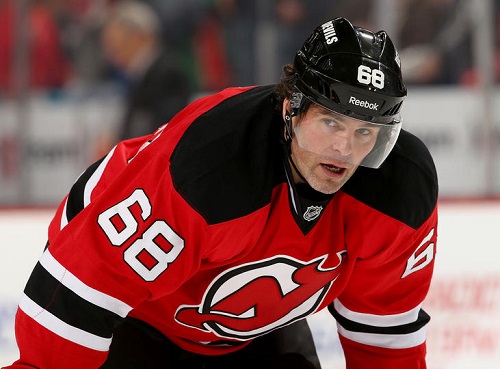 The roller coaster of the 2013-14 season continues for the Devils, as they won three in a row against the Pittsburgh Penguins, Anaheim Ducks, and Los Angeles Kings, but followed up that streak with three consecutive losses to the San Jose Sharks, Winnipeg Jets, and Carolina Hurricanes this past week.
There were some bright spots across these past six games – including winning two-of-three West Coast games over the Ducks and the Kings, both of whom had 30-plus points as compared to the Devils 19 at the time – yet the Devils remain just under .500 with a 9-11-5 record. New Jersey sits fifth in the Metropolitan Division with 23 points, just two points behind the Hurricanes, tonight's opponent as the Devils finish a home-and-home in Carolina.
Looking back at the past several games, the Devils have had their ups and downs. Both of New Jersey's West Coast wins were in overtime, and yet again, the Jaromir Jagr-Travis Zajac-Dainius Zubrus line stole the show.
In the game against the Ducks, the lead see-sawed from Anaheim, to New Jersey, and back to Anaheim before Jagr notched the tying goal with 1:01 left in the third period; Zajac went on to score the gamewinner just under two minutes into OT.
The game at Los Angeles was a tight one, but Ryan Carter opened the scoring early in the third period with a back-handed shot that got past Ben Scrivens with the help of a screen. After the Kings tied it up just a little over one minute later, Jagr capitalized on an excellent play by Zubrus to get the puck up the left side to Marek Zidlicky, who then dished to Jagr with room to sneak the puck under Scrivens's left pad.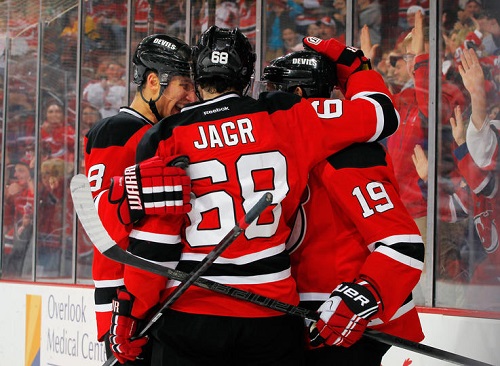 The Jagr-Zajac-Zubrus line notched 10 points in the Devils three-game win streak, including four goals by Jagr and four assists from Zubrus. They're continuing to play smart and exciting hockey and in light of the inconsistent product New Jersey is putting out on the ice, having at least one bright spot helps keep the hope alive.
Of course, it helps that Jagr continues to dominate: he scored his 691st career NHL goal in the loss to the Hurricanes, pushing him past his former Penguins teammate, Mario Lemieux, to ninth all-time in the league. He's just one goal behind Steve Yzerman (692) and three behind Mark Messier (694), both of which are certainly within reach this season.
Another bright spot for New Jersey is its all-time leading scorer, Patrik Elias. After missing six games due to an upper body injury, he came back to the ice and, quite expectedly, has had a noticeable impact on the Devils. The Devils have gone 3-4 with Elias on the ice since his return and he's dished five assists – including a season-high three against Anaheim – and scored two goals during that time.
However, New Jersey still has yet to find a way to keep their game consistent.
In the past week, the Devils dropped three in a row and their scoring output has decreased significantly. They scored five goals across their three losses, as compared to a combined nine goals by the Sharks, Jets, and Hurricanes.
They've also needed offensive help from their defensemen over the past three games: Andy Greene notched one goal and three assists while rookie Eric Gelinas dished two assists. Overall this season, Greene has the fourth-highest point tally for the Devils, with 11 (three goals, eight assists), while Zidlicky is just ahead of him with 13 points (three goals, 10 assists).
While it's great to have a full-team effort that includes two defensemen on the team's top five point-scorers list, clearly New Jersey can't rely solely on their defensemen's offensive power to win games.
The goaltending by Martin Brodeur was nothing short of inconsistent. He is 2-3 in his last five games, including the Devils three losses this past week. Marty only faced 21 shots against the Jets and 22 shots against the Hurricanes, but he allowed a combined six goals against these teams.
That's a .860 save percentage in the past two games, and when you add the 28 saves on 30 shots he faced against the Sharks, Brodeur's save percentage improves marginally to .890.
I don't think that these three games are the sole problem nor do I think that his performance last week is indicative of anything to be super concerned about, but it's obviously not helping New Jersey when the team's scoring lulls at the same time.
There needs to be a more consistent execution on both ends of the ice if the Devils want this season to end better than last year did.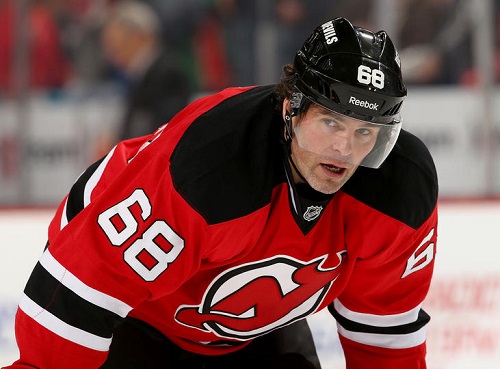 Plus: Jagr's gamewinning goal against the Kings was his 121st all-time, a tally that allows him to sit atop the category in the league. It also marked his league-leading 18th OT goal; the next active player on this list is Elias, who is tied with the inactive Mats Sundin and Sergei Fedorov with 15 overtime goals.
Minus (otherwise known as the injury report): Captain Bryce Salvador (foot) and forward Ryane Clowe (head) continue to sit out, while forward Stephen Gionta (ankle) is on the injured reserve and both defenseman Anton Volchenkov (leg) and defenseman Adam Larsson (lower body) are questionable.
Love Reading About Hockey?

Subscribe to keep up-to-date with the latest and most interesting hockey news!
| | |
| --- | --- |
| | We hate spam just as much as you |