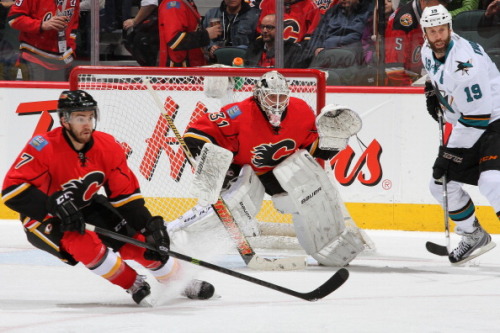 Another successful month for the Calgary Flames has brought with it more honours for its players.
Goaltender Karri Ramo was named the third star for the week of Nov. 24-30 (joining Ryan Callahan and Jaroslav Halak). Defenceman Mark Giordano, meanwhile, was named first star for the month of November (joining Vladimir Tarasenko and Pekka Rinne), adding to the star of the week honours he earned earlier in the month.
In the first of back-to-back games November 25 and 26, Jonas Hiller started and lost 3-2 to the Anaheim Ducks. The following day Ramo was given the start against the San Jose Sharks, earning a shutout in a 2-0 win. Sticking with the hot hand in net, Ramo started against the Arizona Coyotes later in the week, getting his second consecutive shutout in a 3-0 win.
Hopefully for Ramo and the Flames these two games will serve as the turning point in his play at the unofficial quarter way point of the season. After failing to register a win in four games from Oct. 17 to Nov. 8, Ramo is now on a four game winning streak dating back to Nov. 15 when he beat the Ottawa Senators.
Ramo's improved play will undoubtedly lighten the load for Hiller who has struggled of late – losing two straight – despite carrying a 9-6-1 record overall. Being able to alternate between the two goalies with confidence in each will make life at least a little bit easier for coach Bob Hartley.
One of the biggest reasons for Calgary's success through the first two months of the season, though, has been the play of captain Mark Giordano. Of the 25 points he scored in October and November, 16 of them came in the latter month – leading to his first star selection for November.
Highlighting his monster November was the seven game point streak he had to start the month. The streak actually began in late October – amounting to an overall nine game point streak – headlined by the four consecutive games in which he scored multiple points, one game off the franchise record for a defenceman.
By the end of the month he put himself four points ahead of the next closest defenceman – TJ Brodie – in scoring, and six points ahead of the third place Brent Burns and Sami Vatanen. Aside from points, his plus-14 is also among the best in the league – only Brodie's plus-16 is better – and logs an average of just over 24 minutes per game.
Though they were the only ones to receive mention for their efforts, Giordano and Ramo are just two pieces of the complex puzzle that is the Flames. The team's success has, altogether, been a team-wide effort, with everyone pitching in. But lately, there's no questioning the significant impact these players have had on the team, making their star selections well deserving.