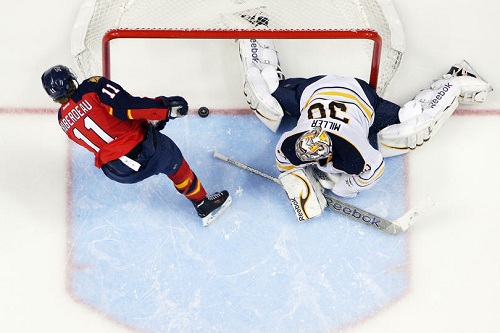 As I watched another loss by the lowly Buffalo Sabres, I began to think back to some of the earlier games in the season. This team had won 2 straight games to start the season. Fans in Buffalo had hopes of a conference title. However, February was a month to forget as they only won 5 games in 14 contests. With the loss to the Florida Panthers this past Thursday, it put the Sabres in 12th place, 4 points of a playoff spot. With their play, they are closer to a lottery pick in this summer's draft. Here is what I would like to see by season's end.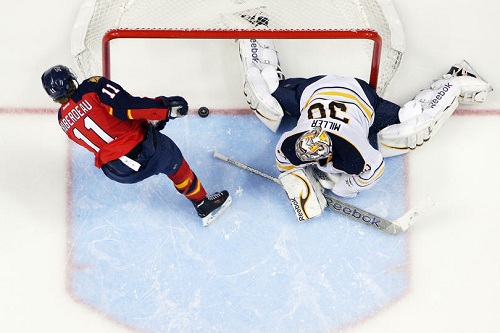 Trade one of the "Big 3"
There have been a lot of rumors swirling around the league that the just about everyone is tradable on the Sabres. The team has already traded D T.J. Brennan to the Panthers for a 5th rd draft pick. To maximize the greatest return, Buffalo needs to trade one or more of the following, Thomas Vanek, Jason Pominville or Ryan Miller. Each of the 3 have one more year on their contracts. If the Sabres feel one or more of these are not in their future plans, you have to trade them. Next year, the 3 of them will account for nearly $ 20 million toward the salary cap. Most likely all 3 would command a slight raise if the Sabres tried to re-sign them.
Find a way to get rid of the dead weight
Several players are underperforming this year and not living up to their contracts. Perhaps most notably is Drew Stafford. Stafford scored 31 goals in 2010-2011. He was rewarded with a 4-year $16 million contract. He has a total of 4 goals this season in 31 games. Recently, he was a healthy scratch for 2 games. Perhaps a change in scenery would do him well.
Other players that I would like to see gone include Vile Leino, Nathan Gerbe, Jochen Hecht and John Scott. Leino has been a huge disappointment in his tenure here. His contract his too much and I don't see him hitting 20 goals in a season anytime soon. Gerbe is just too small and has been ineffective. After scoring 16 goals in 2010-2011, he had 6 goals last season and 4 this year. Surprisingly, Jochen Hecht has not been hurt at all this year. Hecht has been plagued by injuries the past few seasons. He will be 36 this summer, no need to sign him. Finally, John Scott, big guy, enforcer, waste of a roster spot. Scott averages about 4-5 shifts a game. Not worth it, find me a guy that can be physical and play more than 3 minutes a game.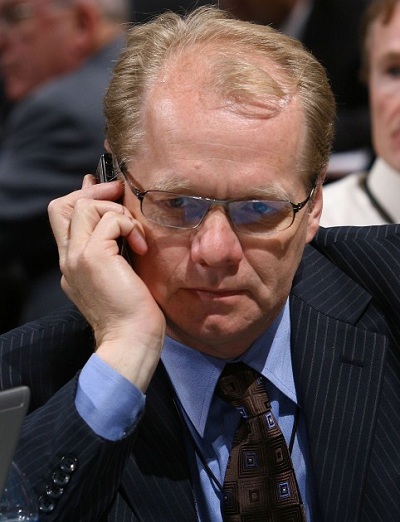 Fire GM Darcy Regier
Now, I am not going to say that everything that Regier has done has been bad. Good things include, trading for Daniel Briere and Chris Drury. He has drafted Ryan Miller, Thomas Vanek, Jason Pominville, Tyler Myers, Marcus Foligno, and Ryan Miller. Bad things include not re-signing Briere, Drury, Jay Mckee and trading Dominik Hasek for basically nothing. His teams have not made the playoffs in 3 of the last 5 seasons. The two times they have made it, they have been bounced in the 1st round. If your coach was fired earlier in the season after almost 16 years, fire the GM as well and breath some new life in the organization.
On a local radio program here in Buffalo, the question was posed of whether fans wanted the Sabres to make the playoffs as an 8th seed or tank the season for a top 3 pick. Don't get me wrong, I would really like to see the Sabres make the playoffs. However, at this time, I don't think they are good enough to make a deep run to the Stanley Cup. Let's start building through the draft and developing these younger players.