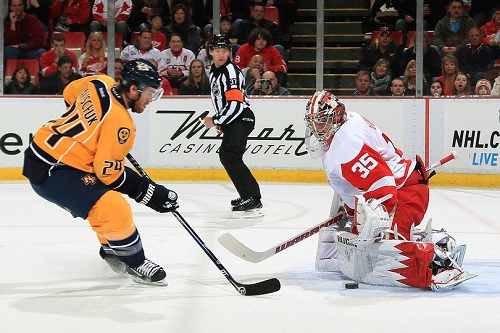 The Nashville Predators have continued to have a hard time finding the back of their opponents' nets. Even if they manage to notched a few goals, their luck doesn't seem to lead them to a win. Their record is currently 7-5-5 (21 points) and they are resting in second place of the Central Division.
Another Shootout
The Nashville Predators faced off against the Anaheim Ducks (12-2-1) on home ice February 16th. It was the second game this season that the Predators were up against the Ducks who had tallied many "W's" thanks to their thirty-year-old rookie goaltender, Viktor Fasth.
Nashville forward, David Legwand, got them on the board at 13:31 of the opening period. Defenseman Jonathan Blum sent a shot towards Fasth from the point, with the puck rebounding to Legwand's stick. Legwand popped the puck over Fasth, giving the Preds a 1-0 lead.
That lead only lasted 4:34 when Matt Beleskey tied the game at 1 for the Ducks. Corey Perry threw a pass to Beleskey while he skated up the slot and he sent the puck top shelf over Predators' goalie Pekka Rinne.
That was the first goal that Rinne had allowed in 155:06 of play, a personal best.
Shea Weber gave Nashville the lead once more with a shot from the right point. The goal was Weber's 100th of his NHL career.
Nashville's lead wouldn't last long once again, with the Ducks' Patrick Maroon scoring his first NHL goal at 16:08 of the second period. Kyle Palmieri sent the puck from the left boards and Maroon was able to tip it in past Rinne.
As Preds' fans have come accustomed to, the game went to overtime with no decision-making goal and had to be concluded with a shootout.
Nick Bonino and Corey Perry netted the deciding goals in Anaheim's 3-2 win over Nashville.
Avalanche Win By "One"
The goal that decided the Predators vs. Colorado Avalanche game on February 18th was about as lucky as a team could ask for. Goaltending was almost absent and the game was chockfull of penalties. It just came down to who could net more goals in sixty minutes of play.
Head Coach Barry Trotz decided to give Pekka Rinne a rest and started back-up Chris Mason. Colorado's Aaron Palushaj tallied the first goal with a quick wrist shot to Mason at 3:43 of the first. Tyson Barrie would net one more for the Avs with a slap shot at 9:30. Nashville's Sergei Kostitsyn would end the period by putting the Preds on the board, but the Avs leading 2-1.
Then came the second period. What also came was the most controversial play of the 2012-2013 season thus far. The Avalanche's P.A. Parenteau sent the puck up the middle of the ice, but it hit Preds' defenseman Scott Hannan's stick, then deflected off teammate Craig Smith's skate. All this lead to the puck finding its way to Colorado's Matt Duchene who was well over Nashville's blueline. He looked back, gathered the puck, and took it in close to Mason and scored.
Barry Trotz was none too pleased. The goal had raised Colorado 3-1 over the Preds and Trotz was not going to just let it slide. He argued with linesmen, but by games-end had just chalked it up to bad luck.
"The explanation from the crew here was we passed it back. We didn't pass it back. That's why they didn't blow the whistle. The league's already talked to us about it. There's no fix. It's just one of those things. Everybody has a bad day," Trotz said, later adding, "The league verified that it should have been an offside."
Mike Fisher pulled Nashville to within one goal at 10:16 of the second, but the Avs yet again answered a minute later with a snap shot from Chuck Kobasew. Colin Wilson would pull it within one again, but Colorado's Paul Stastny and Jamie McGinn would score only 13 second apart, raising them 6-4.
Trotz decided after six goals that it was time to pull Mason. Rinne turned away all ten of Colorado's shot for the last 24 minutes of regulation.
Shea Weber would score Nashville's fifth and final goal at 18:42 of the third. Falling 6-5 when Weber's goal could have led to overtime (and the Preds tallying at least a point) made Duchene's lucky goal off a bad no-call even worse.
Flying home after a tough loss to Colorado, the Preds were ready to shake it off and rally back against division rival the Detroit Red Wings.
Craig Smith would bury the Predators' first goal of the game on a power play. Teammate Colin Wilson held the puck to the right of Detroit's net. He slid it to Smith who beat a sprawling Jimmy Howard. The goal was Smith's first of the season. He netted 14 last season as a rookie. Wilson's assist also extended a career-high point streak to five games.
Gabriel Bourque made Nashville's lead by two at 10:41 of the first period after deflecting Scott Hannan's slap shot from the left point.
Detroit's Howard left the game a minute later with an upper-body injury and he did not return. He was replaced by Jonas Gustavsson.
Daniel Cleary managed to get a short-handed goal with 5 minutes left in the first. Teammate Jordin Tootoo, a former Nashville Predator, tied the game at 2 at 11:33 of the third.
Roman Josi scored his first of the season at 12:54 of the third, but Pavel Datsyuk tied it for Detroit 36 seconds later.
Going to overtime again, Nashville was confident. Shea Weber scored 44 seconds into overtime with a quick shot off a rebound around the boards from Colin Wilson. The Preds won 4-3.
"Lucky. I was just thankful for whoever installed that kick plate behind the net because that sure kicked out hard. I was just lucky to get a stick on it and find a way to slide it in," Weber stated after the game.
Weber, who had a point slump through Nashville's first nine games, now has three goals and three assists in his past four games.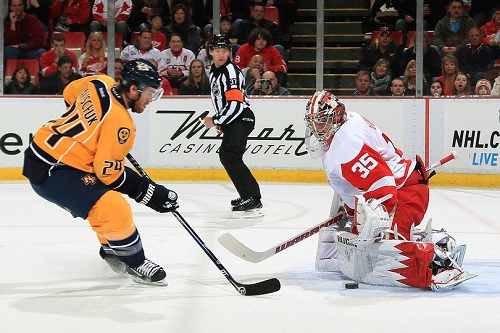 Nothing But Defense
The Predators are known for playing shutdown defense and having an All-Star goalie like Pekka Rinne just adds to that style of play. The only problem in their game against the Vancouver Canucks was that they played exactly like Nashville, but manage to net one past Rinne late in the third.
"Teams get burned in this building trying to do too much. We played their style of game," stated Vancouver's captain Henrik Sedin.
Nashville managed 13 shots in the opening period, but Canucks' goaltender Roberto Luongo turned them all away.
The game was 0-0 until Vancouver's Maxim Lapierre fired a shot from the lower right circle with the puck rebounding to teammate Dale Weise. He sent it into the open left side of Nashville's net. The Canucks went on to win 1-0.
Rinne only had to stop 23 shots and neither team saw many scoring chances. The shutout was Luongo's second this season.