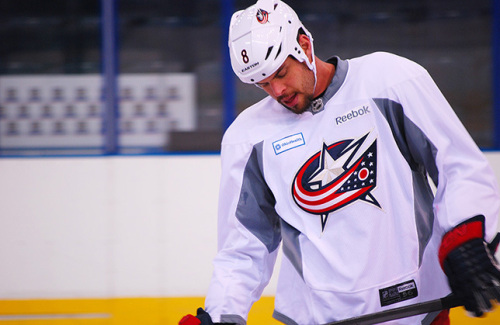 Nathan Horton just can't seem to catch a break.
Columbus Blue Jackets general manager probably put it correctly when he said that Horton "is probably more frustrated than anybody right now as far as trying to find a way to get stronger and get back to being able to play again."
The Blue Jackets are a contender on the rise, but their big free agent addition (seven-years, $37.1 million) will have to battle a degenerative back condition.
From Puck-Rakers:
Kekalainen today reiterated that Horton's injury is one that the club believes can be remedied by a continued course of core strengthening. It is not clear when Horton might be able to resume hockey activities, and no one with knowledge of the injury has ventured to even guess at a timetable.

"It's about getting stronger and managing the pain by getting stronger in the core. Then your back gets stronger and the pain will go away. (He) is the only person that really knows where he is at and how much pain there is involved. It's impossible for anybody else to know what he is going through right now. He is suffering."
Another big blow for a guy who has been dealing with nothing but injuries during his tenure in Columbus. The team signed him knowing he'd miss the first few months of the season with a shoulder injury and then he managed to only play 36 games before suffering an abdominal injury that would end his season.
The Blue Jackets have shown that they can be a playoff team without him, but it's worth wondering how much better they'd be with a former 30-goal scorer in their lineup.
Best wishes to Horton and here's hoping for a quick recovery.
Follow me on Twitter: @TwoPadStackRW