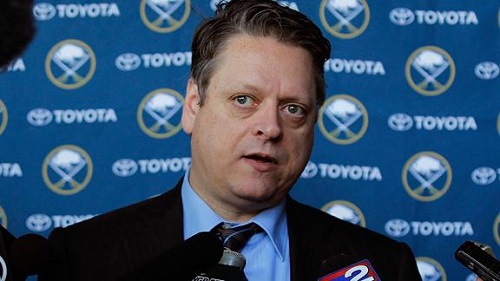 New Buffalo Sabres General Manager Tim Murray has quite the task in front of him. He will have to rebuild a team that has not made the playoffs the last couple of years. One of the best ways to do that is through the NHL Draft. With the 2nd overall pick, Murray should be able to draft a high, quality player.
Former Sabres GM Darcy Regier had a rough time finding first rd talent. Here are some of the worst 1st rd draft picks under Regier:
Barrett Heisten (1999, 20th overall)
Heisten who had a great career at the University of Maine, never could quite cut the NHL level. He played in 10 NHL games with the New York Rangers during the 2001-2002 season and hasn't been back since.
Artem Kryukov (2000, 15th overall)
The Russian winger was the Sabres first choice in the 2000 draft. Unfortunately, he never has played a game in North America. Kryukov has bounced around leagues in Russia and has most recently been in the KHL.
Marek Zagrapan (2005, 13th overall)
Are we seeing a trend here? Zagrapan never suited up for the Blue and Gold. Despite his playmaking skills, he just couldn't make it to the big leagues. He did play 2 seasons with the Rochester Americans where he had 40 and 49 points respectively. Currently, he is playing in the Czech Republic.
Dennis Persson (2006, 24th overall)
The Sabres drafted the Swedish defensemen right after a trip to the conference finals. He did play in the AHL for 4 seasons before going back overseas.
Mikhail Grigorenko (2012, 12th overall)
The jury is still out on this Russian center. In his early career, he has been seen as lazy with no passion for the game at the NHL level. He just turned 20 years old in May so perhaps he will mature some and become the star center the Sabres hope he can be. In 43 NHL games, he has 3 goals and 5 assists.
Tim Murray will be viewed a hero if he can turn the Sabres into a contender. If not, he will be seen as a lame duck, someone who could not build a hockey team. Just wondering if he'll get 16 years like Regier…..