Author's note: We want to apologize to the readers. Originally, the article was written before the news about Kovalchuck returning to training camp had been released, and we neglected to update the story. Our bad. Please don't hate us.
Additions: Krys Barch (2 years, $1.5M), Bobby Butler (1 year, $1M)
Losses: Zach Parise (Wild), Alexi Ponikarovsky (Jets), Eric Boulton (Islanders), Peter Sykora (unsigned) Vladmir Zharkov (KHL), Matt Toarmina (Lightning)
Key re-signings: Martin Brodeur (2 years, $9M), Bryce Salvador (3 years, $9.5 million)
Let's get it out of the way early. The Devils lost the heart and soul of their team this offseason when their captain, Zach Parise, bolted for Minnesota. It's been talked about and lamented over throughout the elongated offseason, so without elaborating on in much and rubbing salt into the wound, let's just say that Parise is a hard player to replace. As seen by the above list, the Devils have not [yet] done much improve their team, and just looking at the raw numbers, the team lost four starters (a star and three very-serviceable players) and a fill-in defenseman and picked up just two players, neither of whom have been stand-out NHLers (Butler was demoted to the minors last year). That's a lot of goals that need to be replaced.
There have been more recent events creating a bit of a cloud over the team. Last week, there were reports that Kovalchuck wanted to continue to play in Russia, and that he would return to the Devils only because he has "contractual obligations. Now, while it's been confirmed that he will be in training camp on Wednesday (a few days late, because he wants to play in the KHL All-Star game), it doesn't say many good things about his commitment. While Kovalchuck is the type of player who can often be seen playing with an incredibly high level of intensity, he has also been seen missing (metaphorically) at times, and basically stating that he would rather play in Russia than in New Jersey is not a good sign. For a player who has THIRTEEN YEARS left on a $100 million deal, all of which is guaranteed if he plays, per the standards of NHL contracts, and playing for a team that might struggle to make the playoffs, one might be a little concerned about what he really has to play for.
On another depressing note, the half-season lockout took away half of what very could be Martin Brodeur's last or second-to-last season (in a Devils uniform, at least). And that just sucks for the fans. Although on the flip side, this shortened season might be a good thing for Marty, since there will be less wear and tear. But then again, Marty is old and on the decline, and there's no telling if he'll be a goalie capable of bringing a team back to the Finals. Not only is Marty on the decline, but so is their backup, Johan Hedberg (who they also re-signed this year), who is also above the age of 35.
It's also hard to forget the fact that despite making the Finals last year, the New Jersey Devils actually lost money. The lack of money means that it will be difficult for the team to purchase big free agents or make trades for stars with big salaries. Also, it makes the destination less attractive, especially with New York just a few miles away, since players know the team won't be a big spender. And there's also always the looming chance that the team moves to a new city, so why make the commitment?
But that's a lot of negatives. Let's talk about the positives. The team has some very good young players. As seen by last year's playoffs, Game 6 of the Eastern Conference Finals specifically, the Devils have one of the best young stars in the league in Calder Trophy-finalist Adam Henrique, who was one of the best players in all the playoffs (at a whopping +12, third best for any player). At just age 22, he showed last year that he's already prepared to be an impact player in the league. He was fourth on the team in points in the regular season, too. On the downside, he's going to start the season sidelined with an injury (recovering from surgery on his thumb). They also have rookie Adam Larsson, who was one of the best young defenders in the league last year. He was third amongst Devils defenseman in ice time, so he's already playing an important role (although 18th on the team in shorthanded time on ice per game), and he has a bright future. There are also high hopes for center Jacob Josefson, who was actually second on the team last year at a +10 (only played half the season, though).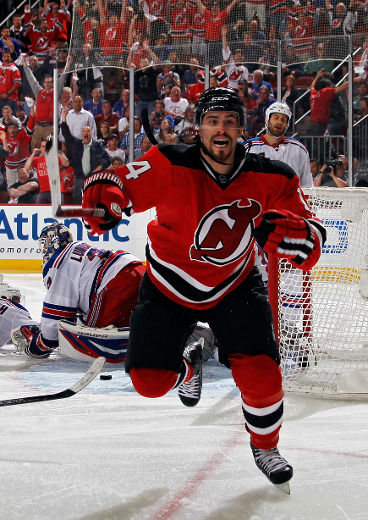 They have some solid defenseman all around their prime, too. In addition to Larsson, the Devils have Anton Volchenkov (led the team with 125 blocked shots), Marek Zidlicky (led defensemen on the team in power play ice time), and Bryce Salvador (led the team at a +18 last year), all of who are very competent and effective defensemen, giving them a very good top four. And let's not forget about the outstanding career-Devil Patrick Elias, who always seems to avoid the spotlight and is often overlooked. How many people, outside Devils fans, would have any idea that he's holds the franchise record for points? Or that he's played the most games as a Devil? How many people have any idea that he was actually second on the team in points during last year's regular season, one place above the heralded Parise? He can still put up points and be an effective player (although he didn't produce in the playoffs). David Clarkson is one of those effective pests that can do everything, from scoring, setting up plays, creating a forecheck, being a physical presence, making life difficult for the opposing goalie, harassing other players, and making Sean Avery's brain melt. Dainius Zubris is a solid, all-around player that will contribute. Also, Travis Zajac, who missed most of last year from a torn Achilles tendon, should be healthy, and he's good for 50-60 points (in a full year).
But while they have many bright young talents and some solid contributors, the team's future is uncertain, and they don't have the top-level talent to be contenders next year, and probably a few years after that. Don't except much from the Devils in the shortened 2013 season, as they'll take much if the year just to adjust to a new team without its captain, a vacant position they might or might not name next year (there have been reports that they will name a captain). These next few years will probably be rebuilding years for the Devils, and hopefully that includes building some kind of stable financial structure, too. I expect the Devils to miss the playoffs, even after making the Finals last year, grabbing the 11th or 12th seed and a good draft pick.
Here are a few of my predictions for the team:
Record: 20-20-8 (48 points); 11th in the East, 4th in the Atlantic (above the Islanders, of course)
Devils will be sellers at the deadline
Leading scorer: Kovalchuck, 48 points (despite possibly being discouraged), followed by Elias at 44 points
Adam Henrique will put up point-per-game numbers (whatever number that may be depending on how many games he plays)
Jacob Josefson will step up into a bigger role and have a breakout year
Five players make their NHL debut for the Devils this year
The Devils will name Kovalchuck the team's captain (with Elias being an alternate captain, and either Clarkson or, per some reports, Salvador earning the other "A")
David Clarkson will continue to piss of the Rangers and be incredibly effective against them