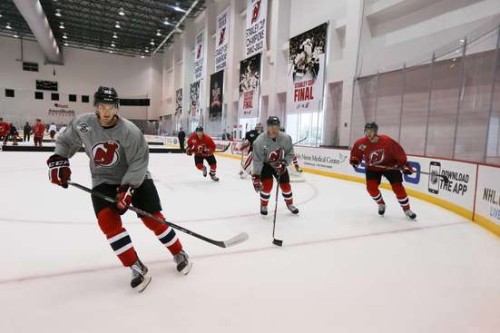 "It's almost like getting traded," Travis Zajac said at day one of the Devils training camp. It's an entirely new feeling this season – captain Bryce Salvador just announced his retirement, forward Ryane Clowe was not medically cleared to play and retired a few days ago, the Devils recently added Jiri Tlusty's one year contract to their extensive list of off-season moves, and, arguably most notably, this is the first season in 28 years that will not see Lou Lamoriello as part of the organization.
So, how did the veteran Devils react to such a big change? Words like "refreshing," "energized," and "excited" were thrown around, for starters. There's also some big changes in rules around the club, now that the Lamoriello regime has ended. Firstly, facial hair is now allowed in New Jersey, where the Maple Leafs (Lamoriello's new club) are already trimming their beards. ""Maybe I'll get the moustache back at some point," centre Adam Henrique said (here's hoping he's joking). Secondly, players are now allowed to have accounts on social media sites like Twitter – and Henrique and Stephen Gionta have already jumped on the bandwagon. "It's nice to be able to connect to the fans," Henrique said. "I just started and I'm still getting used to it, but it's funny to see what the fans have to say and to get our personalities out there. The fans know us from what they see on the ice and they might have a perception, but it's nice to interact this way. Hopefully, we can grow together and just become one huge community."
Players are also allowed to wear numbers over 40 – under Lamoriello, you weren't unless you were Jaromir Jagr (68), Stephane Richer (44), Doug Gilmour (93), or Alexander Mogilny (89). Mike Cammalleri will also become the first Devil in history to wear number 13, switching from his previous 23.
Even the physical testing is different under Ray Shero is different, says Henrique, and added that the questions they answered from their own media were more light than they were before.
Rookie coach John Hynes was happy to partake in the changes. "We've just done some changes as far as things that we felt as a group, management and coaches, would be beneficial and made sense for things we'd like to do and the environment we'd like to create," he said. "We've had input from the players too. We talked to some guys that have been here for a while and asked for their thoughts and suggestions."
Though no one denies that Lou Lamoriello brought the Devils success or speaks badly of him, the feeling around the dressing room suggests that it may have been time for a change – for a much-needed fresh start.