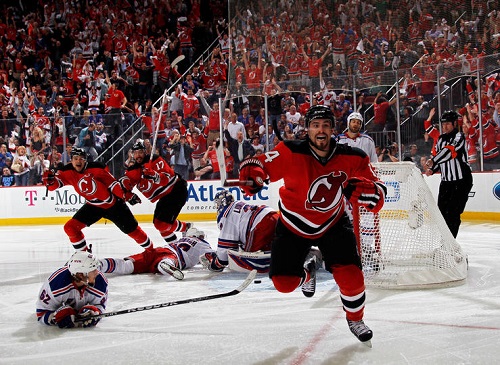 When the New Jersey Devils selected Adam Henrique 82nd overall in the 2008 NHL draft, they knew they were selecting a versatile forward who was strong defensively and offensively. He was a part of the 2007 Gold Medal Team Ontario U-17 team at Whitehorse, Yukon's Canada Winter Games. That February, his teammates included NHL first-rounders Steven Stamkos, Michael Del Zotto, Cody Hodgson and Alex Pietrangelo. They did not know that their third-rounder would be more than competent matching up against his former teammates.
After he was drafted, Henrique led the OHL's Windsor Spitfires to back-to-back championships in 2009 and 2010. But, if you know anything about the New Jersey Devils, you know that isn't Henrique's most notable playoff performance.
In the 2012 playoffs, Henrique scored the game-winning, series-winning goal in double overtime. It was game 7 of their playoff matchup against the Florida Panthers, and his goal sent them to the conference finals against the New York Rangers. How did that series go? For an answer, we again look to Henrique himself.
It wasn't the prettiest goal, but it made people take notice. In his first full-season as a New Jersey Devil (2013-2014), Henrique scored 25 goals and became a Calder Trophy finalist. Last season, he led the Devils in points with 43, despite playing most of the season with two torn ligaments and a bone chip in his left wrist (he is left-handed). He has already earned himself the title of alternate captain.
Needless to say, Henrique quickly became my favourite New Jersey Devil, as his role increased based solely on his compete level. His work ethic has become apparent in every game he plays. Spotlight-wise, speculation saw him taking a back seat to Jacob Josefson, the 20th overall pick in 2009. He now holds a spot on the first line with Lee Stempniak and Mike Cammalleri.
If looking back into the history of a team that hasn't made the playoffs since that 2012 run hasn't convinced you of his capabilities yet, though, let's take a look at more recent statistics.
In eleven games into the 2015-16 NHL season, Henrique has notched nine points – including a team-leading six goals. His goal count sees him sitting close to the top of the leaderboards among the NHL's elite. He recorded a 3 point (2g-1a) night against the Buffalo Sabres. One of his tallies that night was also the game-winning goal.
He's also already recorded a short-handed goal this season – that same game-winner against the Sabres. It is the 10th of Henrique's career, catapulting him to tie for 5th among all-time Devils with Jamie Langenbrunner, Brian Rolston and John MacLean. He is also third place in the NHL since 2011-12, behind Brad Marchand and Brandon Sutter (who both have 11 SHG). It also was a rather pretty goal.
People are definitely taking notice of Henrique's elevated play. "Obviously he's coming off some strong games," teammate Mike Cammalleri said. "I think it's important that we keep an even keel so I'll probably tone down my admiration from what it truly is. I have a world of respect for the way he plays the game. He's just a really good player who is continuing to get better. He's got a competitiveness to him and a desire."
The Hockey News also recently did a "Getting to Know" segment on Henrique, where author Mark Malinowski sat down with the 25-year old to ask about life on and off the ice. Fantasy hockey fanatics are also noting his massive increase in stock in the early stages of the season.
"I want to be that guy that's look at when we need a big play. I think we have a lot of those guys in the room. I'm just trying to take it upon myself to be the best I can be," Henrique said. It seems that he is, increasingly, taking on that role. He plays in every situation – power play, penalty kill, 3-on-3 overtime, and often gets the shootout nod. He gets roughly 20 minutes of ice team every night.
Based on the way John Hynes has relied on him this season, and the way Adam Henrique continues to work hard on all aspects of the game, he will become an integral part of the Devils' rebuild. He definitely deserves it.