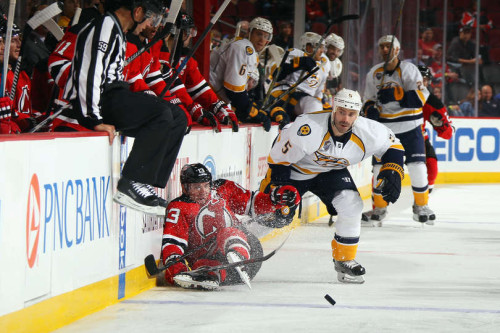 The Devils have played three games to start their regular season, and though there are some definite positives, some glaring issues have arisen. The Devils have not won a single game, allowed two short-handed goals, and are taking tons of penalties (notably, a lazy, unnecessary penalty by new signing Lee Stempniak cost them a game). A bright spot, though, is that they have scored three power-play goals from Kyle Palmieri, Jiri Tlusty and defenceman Eric Gelinas in just nine man-advantage opportunities.
"The penalty kill is going to be, I think, a staple of our team – or it needs to be," said forward Adam Henrique, who scored his first goal of the season against the Washington Capitals. "It's something we need to take pride in as a group. We want to be one of the best teams in the NHL on the PK."
John Hynes has his work cut out for him, though. "Sometimes it's easy to say one penalty is a bad penalty versus not, I think you have to walk a fine line with that and really go through them through the video, and sit down with guys and the team and talk about what was good and what was bad," he said. "There might be two or three bad calls in a game, and we can't then add onto that with a bad one in addition."
As the Devils prepare to take on the Sharks at home on Friday, Hynes is preparing to tackle the penalty kill issue head on. "We're just in a challenge right now where we've got to continue to find a way to win a game," he said after the Devils' loss to the Predators. He is also looking to generate more offence, as the Devils have scored only 5 goals in the three games they have played so far – with goals from Henrique and Mike Cammalleri being the only two scored five-on-five.
Cory Schneider will likely start in net against the Sharks, returning to the Devils lineup after the birth of his first child – a son, Wyatt. Keith Kinkaid's play, though, was formidable in his absence – another bright spot in Hynes' team.
Generating more offence was something the Devils struggled with last season and, the group hopes, they can solve their issues under a brand new regime.