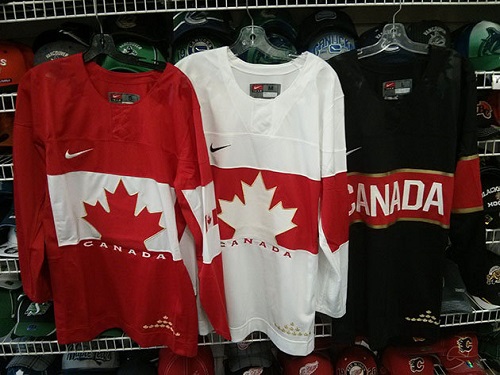 Although no official announcement has been made, an image of three jerseys was leaked on Reddit that shows what are apparently the sweaters Team Canada will wear at the Sochi Olympics. As with anything involving hockey in Canada, the image sparked instant controversy and debate.
Here is just a sample of the kind of tweets that people were posting Tuesday.
new team canada jersey's are terrible what were they thinking?

— Mitch (@420TML) September 24, 2013
Or
Have those hideous things been confirmed as the Team Canada jersey yet?

— Derek Blasutti (@dawgbone98) September 23, 2013
The hatred was particularly targeted at the black jersey. Some people made jumps all the way back to World War II while others just simply didn't like it.
The black Team Canada jersey looks like one of those Olympic T-Shirts they were selling at Zellers last year

— Jeff Veillette (@Jeffler) September 24, 2013
Could someone kill that black Team Canada jersey with fire? Thanks.

— Jen (@NHLhistorygirl) September 24, 2013
And
I guess with this new third jersey, Team Canada will be ready to fight both the Americans and the Russians at the same time

— Rory Johnston (@rnfjohnston) September 24, 2013
And then there were tweets that just don't make sense.
With Halloween coming up, Team Canada can probably count on Prince Harry to buy an Olympic sweater.

— Patrick Johnston (@risingaction) September 24, 2013
This is just a sample of the stuff people were saying on Twitter. There were many more. It was as if Ben Affleck was named team captain.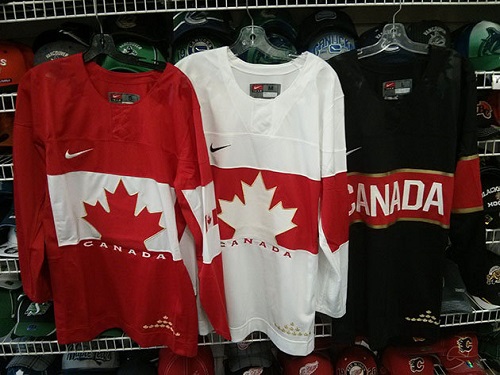 But this reaction just shows how passionate this country is about hockey. A small thing such as a jersey can set people off because they care about their country and their national pride shines strong, especially on the ice.
If these turn out to be the real jerseys, people will come to accept them. They will still tune into the games in record numbers and will still cheer this team on as they defend their gold medal. That's what makes Canada great.
Lee Snowden summed it up the controversy perfectly.
My take on the Team #Canada Olympic jerseys…..no matter what they end up looking like, I'm still buying one. #Sochi #Nike

— Lee Snowden (@SnowdenNHL) September 24, 2013
And in the end, that's all that matters.