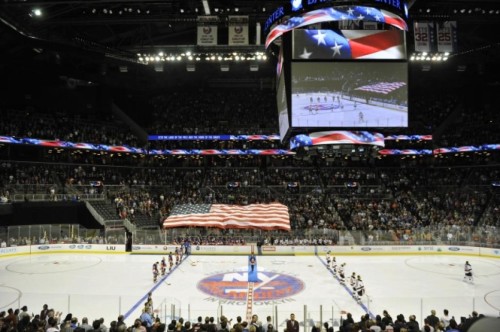 With very little roster turnover from 2014, the 2015 New York Islanders aim to rock the Barclays Center and prove to the Metro Division that they aren't just a fringe playoff team. The only big new developments the fans seem to care about are the new arena, the new jerseys, and the new CEO (looking at you, Brett Yormark). The lack of a big off season splash shows that Garth Snow is confident his young group will take the next step, and that head coach Jack Capuano can skipper them to the playoffs.
Projected Lines
1. Anders Lee – John Tavares – Ryan Strome
This line has it all: Size (Anders Lee is 6'2″ 225 pounds), speed, and skill (between John Tavares and Ryan Strome). This line also has chemistry, as they played together a lot after Kyle Okposo went down with a detached retina. After playing in 31 games in the 2013-2014 season, Ryan Strome finished the 2014 season with 17 goals and 50 points – not bad for a full freshman campaign. Strome had this to say about playing on a line with John Tavares and Anders Lee:
"The last five or six games of the regular season I got to play with him and then all of the playoffs, as well, and I think we had pretty good chemistry, I think I proved myself a little bit," Strome said of Tavares. "I look at it as a great opportunity for myself. Whoever you play with you have to bring it every night, but everyone's game gets elevated when they play with John, because he works so hard and has such a great presence and can do so many things out there."
In his full rookie season, Anders Lee totaled 25 goals and 16 assists. However, he was scratched in the final two games of the season for failing to score in the first five playoff games against the Washington Capitals. I see a nasty cycle working well for Ryan Strome and John Tavares, with Anders Lee parked in front to clean up the garbage.
2. Nikolay Kulemin – Mikhail Grabovski – Brock Nelson
I swear, you could form a sitcom with these three: Two Russians and a Holdout! Brock Nelson was in danger of missing the entire 2015 season because he waited until the last few hours to sign his contract. Kulemin and Grabovski already have preexisting chemistry from playing on the Leafs together, and were also line mates for part of last year before Grabovski went down with a nasty concussion. After a hot start that saw Brock Nelson put up 19 points in 20 games, he cooled off tremendously, only finishing with 42 points for the entire season. Kulemin was also tremendous on the penalty kill, notching a serious number of points short handed (3 goals was good for a 5th place tie in the league). The success of this line will depend on them all staying healthy.
3. Josh Bailey – Frans Nielsen – Kyle Okposo
I was kind of shocked to see Kyle Okposo on the third line, especially with the chemistry he has with John Tavares, but this might just be Jack Capuano's attempt to spread out talent amongst the lines. In addition to the offseason trade rumors circling Kyle Okposo, he has already been named as one of the biggest in-season trade targets by a number of analysts. Okposo's cap hit figures to be very high given his past production and current market value, however his injury history definitely scares the Islanders, and with the youth they have in the system (Barzal, Michael Dal Colle, Joshua Ho-Sang, and Anthony Beauvillier *drools*) he is more of a luxury than a necessity.
Josh Bailey, who is now 26 (where does the time go?), was a .6 PPG player last season, notching 41 points in 70 games. Nielsen is also one of the most efficient centers in the game. When healthy, Kyle Okposo is a PPG player (just look at his numbers before the injury). I honestly feel that this could be one of the best third lines in the NHL.
4. Matt Martin – Casey Cizikas – Cal Clutterbuck
Everybody's favorite line. Definitely more intelligent and personable than the Hanson Brothers, but you can make a strong argument that Matt Martin and Cal Clutterbuck are the bash bros in real life. Matt Martin and Cal Clutterbuck finished first and second respectively in the league in hits last season (382 and 343). In 2013? Matt Martin was first, AGAIN, with 359 hits. Clutterbuck was fifth with 270. In 2012? Martin lead the league with 234. You see where I'm going with this? It's a line you don't want to mess with. Due to the physicality of Martin and Clutterbuck, and the speed and grit of Casey Cizikas, this line has been called the best 4th line in the league.
Defensive Pairings
1. Johnny Boychuk – Nick Leddy
Probably the best defensive pairing in the league, and they will be together for a long time, as both just signed massive extensions (7-years, $42 million for Boychuk, and 7-years $38.5 million for Leddy). Johnny Boychuk is physical, and there's a reason his nickname is Jonny Rocket – he has a laser-beam for a slapshot. He enjoyed a career year in goals, assists, and points (9, 26, 35 respectively). Nick Leddy adds a skating element to that pair – more elusive and a great puck handler, Leddy has the skill to take the puck coast to coast to set up in the opponents zone. He's also a great power play quarterback.
2. Calvin de Haan – Travis Hamonic
A young pairing that also compliments each other. Hamonic being a very defensive minded and responsible defenseman. de Haan known more for his offensive prowess. Hamonic was a key contributor on defense last season and his presence was sorely missed when he was sidelined with a torn MCL this postseason. Health will be key for both players, as de Haan has had a number of shoulder injuries in the past.
3. Brian Strait – Marek Zidlicky
The pair most likely to give the fan base a heart attack on a nightly basis. Strait was consistently the worst defenseman on the Islanders roster last year, yet continued to get playing time. He had a team worst Corsi and Fenwick and was responsible for a number of zone collapses. Zidlicky is basically the new Visnovsky. A 38-year old veteran who can move the puck occasionally.
4. Ryan Pulock
The future of this defense is Ryan Pulock, and I sincerely hope he earns playing time this season. He was a monster in the AHL (17 goals, 12 assists) and can quarterback a serious powerplay.
Goaltending
The part of this team that is most up in the air. With the incredibly vague injury reports provided by the team, the "Upper Body Injury" that starting goalie Jaroslav Halak is nursing could be anything from bruised ribs to a missing eyeball – we simply don't know. While Halak and Capuano don't see this injury being serious, it is unlikely Halak starts the season tonight. Halak is coming off of a career season where he started a career high 59 games and won a career high 38 games. With Halak sidelined, Thomas Greiss will get the start. Greiss played this past season with the Penguins, posting a 9-6-3 record with a .908 save percentage and 2.59 goals-against average while backing up Marc-Andre Fleury.
New arena, new culture
Something Islanders fans will have to get used to is the commute to the new arena in Brooklyn. While many fans were not happy about the move, they need to accept reality – the team is now in Brooklyn, and they are not moving back any time soon. Barclays CEO Bretty Yormark has accommodated fans nicely, bringing over the championship banners, not altering the jerseys, and, after much complaining, retained the old goal horn. While a different experience than the Coliseum, fans will quickly forget their anger if the team keeps winning.
Love Reading About Hockey?

Subscribe to keep up-to-date with the latest and most interesting hockey news!
| | |
| --- | --- |
| | We hate spam just as much as you |