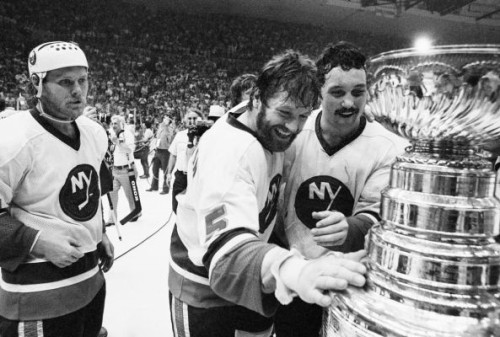 5. Clark Gillies provided a physical and offensive presence for the Islanders dynasty teams. Gillies notched 319 goals, 378 assists, and 1023 penalty minutes and was elected to the Hall of Fame in 2002. He scored over 30 goals for four straight seasons as part of the Trio Grande line which was made up of Gillies, Bossy, and Trottier. Gillies was essential in the 1980 playoff series agains the Boston Bruins, as he got the best of Terry O'Reilly several times, assuming the role as Islanders' chief enforcer, and allowing the team to battle through a physical series.
4. Billy Smith was drafted by the Islanders in the 1972 expansion draft as the second player picked by the Islanders. When Smith finally took over as starting goalie full time in 1974, he led the Islanders to their first playoff appearance. Smith played in the 1978 ASG where he was named MVP. Smith continued to share time after that with net minder Chico Resch, where they combined to form the top goaltending duo in the NHL. Smith once again took over in a solo starting role in the 1980 playoffs and took the Islanders to their first Stanley Cup. Smith went on to become a First Team All-Star and Vezina Trophy winner in 1982. In 1983 he won the Jennings trophy. Smith was part of one of the most dominant team in sports history, helping the Islanders to four straight Stanley Cups, five straight finals, and a record 19 consecutive playoff series wins. Smith was also the first NHL goalie to be credited with a goal.
3. Denis Potvin is still talked about in NHL arenas to this day. Albeit, they are by Rangers fans who like to refer to a domestic violence dispute he was involved in. Ironic, because Rangers fans hate when Islanders fans "dwell on the past," but I digress. Denis Potvin was the Islanders captain for all four of their Stanley Cups. He was drafted 1st overall by the Islanders in 1973 by Bill Torrey. Potion became an immediate star, winning the Calder Trophy as ROY in 73/74, and the Norris Trophy as league's top defenseman in 75/76. His best season offensively was in 1979 in which he became the second defenseman to score 30 goals and 100 points in a single season, and was awarded his third Norris trophy. When Clark Gillies stepped down as captain after the 79 season, Potvin took over from 80-87. Despite being known as a physical defenseman, Potvin averaged .992 points per game over his career.
2. Mike Bossy may be the most prolific scorer in NHL history, ranking first in goals per game with .76. Due to back injuries, Mike Bossy only played 10 NHL seasons, but his impact was immediate, setting the rookie goals record with 53 in 77/78. Bossy scored at least 60 goals in a season no less than five times, scoring 50 in every season except his last. Bossy is the only player in NHL history to score consecutive Stanley Cup winning goals, in 1982 and 1983, and the only player to record four game-winning goals in one series (1983 Conference Final).
1. Bryan Trottier was one of the most important members of the dynasty Islanders teams. Drafted in the 2nd round, 22nd overall by the Islanders in 1974, he played his next 15 seasons with the club. He set an NHL rookie record of 95 points and won the Calder Trophy in 75/76. Trottier's best statistical season with the club came in 78/79 when he notched 134 points, won the Art Ross Trophy, and also won the Hart Trophy. For the second consecutive season he led the NHL in assists with 87, up from the previous years 77.When the Islanders won their first Stanley Cup, Trottier won the Conn Smythe Trophy as playoff MVP, and in 81/82, he scored 50 goals, the highest single-season total of his career.
Trottier centered Clark Gillies and Mike Bossy (both seen on this list) on a line known as the Trio Grande, but was most known for his chemistry with Mike Bossy. Trottier ranks second in Islanders history in goals, and first in assists and points.
Love Reading About Hockey?

Subscribe to keep up-to-date with the latest and most interesting hockey news!
| | |
| --- | --- |
| | We hate spam just as much as you |