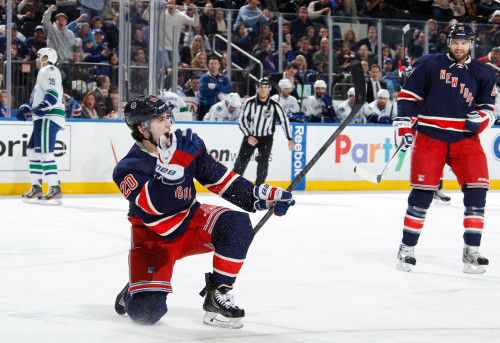 The New York Rangers came in to the summer having four restricted free agents to sign. Three of the four were heading towards arbitration hearings (Defenseman John Moore wasn't eligible for arbitration), and they were all key components to last year's Stanley Cup run. Mats Zuccarello led the team in regular season scoring, Chris Kreider provided a noticeable jolt to the team's top line (compare the Rangers performance before Game 5 of the Penguins series and after), and Derick Brassard was arguably the team's second best center last season. Luckily, and I say that because arbitration hearings can get ugly (the player's agent is trying to prove his case on why the player should get max money, the team is making a case against their own player so they have to pay them less), the Rangers were able to strike deals with Zuccarello and Kreider before their respective hearings took place. Derick Brassard's hearing is scheduled for Monday, July 28th.
Mats Zuccarello – One Year / $3.5 million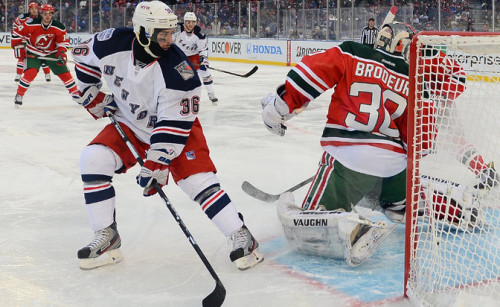 With the one year deal, Zuccarello becomes the third-highest paid forward on the team (behind Rick Nash and Martin St. Louis). Last season, the Norwegian winger tallied 19 goals and 40 assists in the regular season, and added five goals and eight assists in the playoffs. Losing your top scorer always hurts, but losing his consistency would have hurt even more. On one hand, the Rangers brought back Zuccs on a very fair deal if he produces at a similar pace from 2013-14. On the other, if Zuccarello has an even better season, he'll be on the open market come 7/1/15, and would be receiving offers well north of $4 million. Ideally, he continues to be the cornerstone of a consistent third line again, and anchors the Rangers second power play unit.
Chris Kreider – Two Years / $4.95 million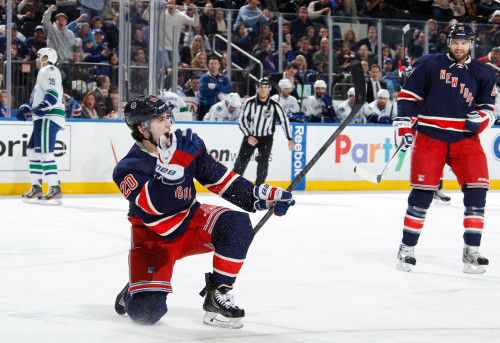 The 23 year-old Massachusetts native has had quite the ride in his short NHL career. After producing above expectations during a mid-playoff call-up during the 2011-12 season, the lockout shortened season was quite the opposite. He spent most of the 2013 season in Connecticut with the Rangers' AHL team due to John Tortorella's lack of patience with the young winger. Enter Alain Vigneault, who gave the Boston College product the opportunity to earn more ice time, and it paid off – 17 goals and 20 assists in 66 games, and another 13 points in the playoffs (five goals, eight assists). Guys with Kreider's combination of size (6' 3" / 225lbs), speed, and hands don't come along often. This contract rewards him for what he's done so far, and puts a bit of a carrot in front of the donkey. Kreider will be an RFA again after the 2015-16 season, so the Blueshirts will get another chance to keep him around if he furthers his development as a top line player and key contributor.
With a combined cap hit of $5.975 million, that still leaves the Blueshirts with roughly $7 million in cap space for the upcoming season. Factor in that they still need to sign Brassard and John Moore, they'll likely come in to the 2014-15 campaign with limited cap space. That can change, but it will mean that Glen Sather will have to get creative if the Rangers need tinkering during the season or at the trade deadline. The bottom line is that without the Rangers adding a reliable offensive weapon via free agency this summer, they couldn't afford for things to go south with Zuccarello. Keeping a young talent like Kreider happy, who still has a good amount of upside and has shown the ability to be a great player, is important to the Rangers long-term success.