Featured
New York Rangers
New York Rangers Captain Ryan McDonagh To 2016 NHL All-Star Game & A Look Back At The Blueshirts' Past Representatives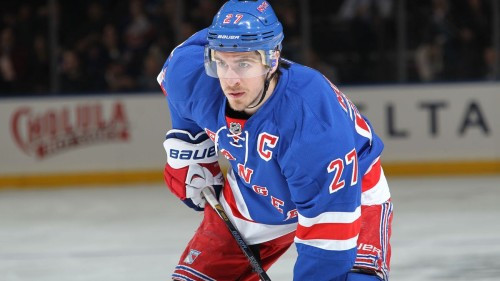 The NHL All-Star Weekend has arrived, and for the first time will be played in Nashville, Tennessee.
While the New York Rangers organization typically sends at least two-to-three players to represent the Broadway Blueshirts, team captain and defenseman Ryan McDonagh will be the team's only representative in the Music City.
For the first half of the 2015-2016 campaign the Rangers' captain's numbers are as follows; the American born D'man has six goals and 18 assists for 24 points; is a plus-10 on the year; and has also chipped in two power-play goals for New York.
McDonagh will also take part in two events for the NHL Skills Competition on Saturday night. The Bridgestone Arena will get to witness No. 27 participate in the One Timers Challenge (For Left-handed shooters) and the Discover NHL Shootout, in the second round.
The Garden Faithful will be able to enjoy their team's captain play in the all-star game Sunday and dawn a jersey for the Metropolitan Division. But, let's take a look back at the New York Rangers past 16 years of NHL All-Star representatives…which even dates back to the last time Madison Square Garden played host for annual event.
2015: Nationwide Arena: Columbus, Ohio: Columbus Blue Jackets
Left winger – Rick Nash
2012: Scotiabank Place: Ottawa, Canada: Ottawa Senators
Goaltender – Henrik Lundqvist
Defenseman – Dan Girardi
Right Winger – Marian Gaborik
2011: RBC Center: Raleigh, North Carolina: Carolina Hurricanes
Goaltender – Henrik Lundqvist
Defenseman – Marc Staal
2009: Bell Centre: Montreal, Canada: Montreal Canadiens
Goaltender – Henrik Lundqvist
2008: Philips Arena: Atlanta Georgia: Atlanta Thrashers (Now Winnipeg Jets)
Center – Scott Gomez
2007: American Airlines Arena: Dallas Texas: Dallas Stars
Left winger – Brendan Shanahan
2004: Xcel Energy Center: St. Paul, Minnesota: Minnesota Wild
Winger – Jaromir Jagr
Center – Mark Messier
2003: Office Depot Center: Sunrise, Florida: Florida Panthers
Defenseman – Tom Poti
2002: Staples Center: Los Angeles, California: Los Angeles Kings
Defenseman – Brian Leetch
Left Winger – Mike York
2001: Pepsi Center: Denver, Colorado: Colorado Avalanche
Right Winger – Theoren Fleury
Defenseman – Brian Leetch
2000: Air Canada Centre: Toronto, Canada: Toronto Maple Leafs
Goaltender – Mike Richter
1999: Ice Palace: Tampa Bay, Florida: Tampa Bay Lightning
Center – Wayne Gretzky
1998: GM Place: Vancouver, Canada: Vancouver Canucks
Center – Wayne Gretzky
Defenseman – Brian Leetch
1997: San Jose Arena: San Jose, California: San Jose Sharks
Center – Wayne Gretzky
Center – Mark Messier
Defenseman – Brian Leetch
1996: Fleetcenter: Boston, Massachusetts: Boston Bruins
Defenseman – Brian Leetch
Center- Mark Messier
Right Winger – Pat Verbeek
1994: Madison Square Garden: New York, New York: New York Rangers
Goaltender – Mike Richter
Defenseman – Brian Leetch
Left Winger – Adam Graves
Center Mark Messier