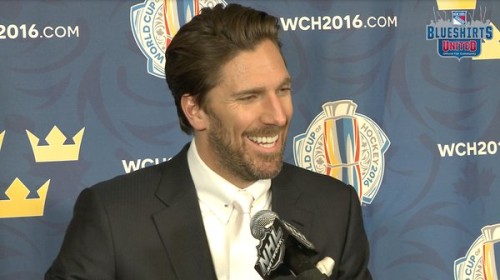 The national teams participating in the 2016 World Cup of Hockey this summer announced their preliminary rosters yesterday evening, March 2. A handful of New York Rangers were named to represent their respective countries, and there were also a few Broadway Blueshirts who weren't included on the initial rosters.
Let's take a look at the familiar faces who Rangers fans will get to watch play during the international tournament, which will be played at the Air Canada Centre — home of the Toronto Maple Leafs from September 17-October 1.
Full New York Rangers Coverage From HOHM
Rangers' team captain Ryan McDonagh was one of the four defenseman named to Team USA's preliminary roster, which includes 15 others skaters, for now. As expected, it was confirmed center Derek Stepan will also represent America on the ice come September. Both of New York's leaders donned the red, white and blue for USA at the 2014 Winter Olypmics too, at Sochi, Russia.
Team USA names their preliminary 16 players for the World Cup of Hockey. #WCH2016 https://t.co/VJqCAaoFPc pic.twitter.com/YD0ftDfnBl

— Sportsnet (@Sportsnet) March 2, 2016
The King will take his rightful throne in Team Sweden's crease, as the tournament will be goaltender Henrik Lundqvist's first World Cup of Hockey experience since joining New York in 2005; but Lundqvist was a part of Hockey Sweden during the 2004 World Cup of Hockey. The former Olympic Gold Medal winner (2006) for Sweden also addressed the Media on March 2 with the country's management.
Lundqvist talking about Sweden's chances in the World Cup. He believes they have the team to win the whole thing. pic.twitter.com/NkXDSAcNyZ

— Dan Rosen (@drosennhl) March 2, 2016
VIDEO: #NYR @HLundqvist30 discusses his selection to Sweden's World Cup of Hockey roster: https://t.co/aynDsOaEGi pic.twitter.com/VTEVfbSMNe

— New York Rangers (@NYRangers) March 2, 2016
Forward Mats Zuccarello's native country of Norway isn't one of the eight team's playing at the Air Canada Centre come September, but don't worry NYR fans — the Rangers' winger still landed a roster spot for the tournament. Team Europe, who entails the remaining countries that were left out of the 2016 World Cup of Hockey is the club Zuccarello will be lacing up the skates for.
The new variable added to the tournament is the under-23 North American team. Team North America, made up of both American and Canadian skaters, hopes to shock the hockey world and compete for a title with the club's young but dangerous talent. So, Rangers' forward J.T. Miller will join the likes of Edmonton Oilers' phenom Connor McDavid and Buffalo Sabres' rookie-star Jack Eichel.
Here's the sweater Team North America will wear at the World Cup of Hockey. #WCH2016 https://t.co/t9ifQVeUEfhttps://t.co/PYsPrvpN3L

— Sportsnet (@Sportsnet) March 2, 2016
Players Left Off Of Rosters
New York's forward Rick Nash was left off of Team Canada's initial roster. It doesn't appear that the two-time Olympic Gold Medal winner will be asked to wear the red and white, again.
Finland has a plethora of options between the pipes, so Rangers' backup Antti Raanta will not get the nod there. Forwards Derick Brassard, Oscar Lindberg and Viktor Stalberg more than likely won't dress for their respective countries either — Canada and Sweden.
Still, it should be exciting for New York fans to witness five Blueshirts take the ice and compete against one another in Toronto next fall.
Kyle McKenna covers the NHL for About.com Sports & New York Rangers for Hooked On Hockey Magazine. He can be reached on Twitter (@KMcKenna_tLT5) or via email (mckenna.kyle91@gmail.com)