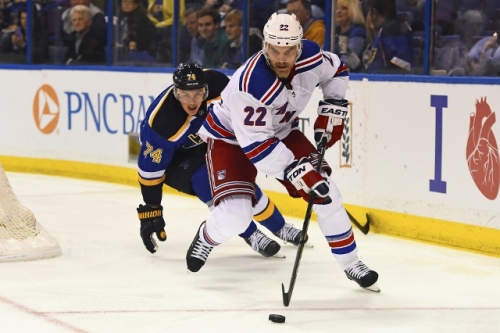 With a 7-6-2 record fifteen games in to the season, the New York Rangers were hoping for a better start to the 2014-15 campaign. It could be worse, but they haven't exactly picked up where they left off at the end of the 2013-14 campaign either. Injuries have played a big part in the Rangers mediocrity thus far, but the good news is their line-up is a lot closer to becoming whole again. While top defenseman and captain Ryan McDonagh still has another three weeks before returning from a separated shoulder, top center Derek Stepan made his season debut last Saturday, and top off-season acquisition Dan Boyle is scheduled to return to the blueline on Thursday night against Colorado.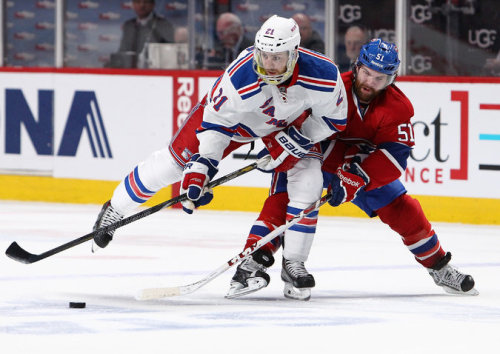 Coming in to the season, the center position was not one of strength for the Rangers. Derek Stepan and Derick Brassard were good for the top six, and Dominic Moore certainly gets the job done as a shut-down center. Kevin Hayes was a rookie with a high upside coming in to the season, but the cupboard was bare beyond that. When Stepan broke his leg in training camp, it put Alain Vigneault in a situation where line combinations were being shuffled often to compensate. Now that Stepan is back, it gives the Rangers a strong top six, and consistency with their top two lines (Rick Nash-Derick Brassard-Martin St. Louis & Chris Kreider-Stepan-Mats Zuccarello).
When Anton Stralman departed for free agency, it left the Blueshirts with a void on the blueline that couldn't be filled from within the organization. Enter Dan Boyle, who was brought in to make a deep defensive group deeper, and to cure the Rangers power play woes. After suffering a broken hand from a blocked shot midway through the season opener in St. Louis, we'll finally get to see how the former San Jose Shark meshes with the team. Getting a player of Boyle's caliber back out there is always a welcome sight, but the John Moore suspension and the aforementioned McDonagh injury made the Rangers blueline a weak spot for a couple of weeks. Matt Hunwick has done a fine job in an every night role, but it was rough beyond that with the likes of Mike Kostka, Conor Allen, and Dylan McIlrath.
The 2014-15 season is just over a month in, but there aren't any more excuses for the Rangers sloppy play in their own end that cost them games against Toronto and Edmonton. The line combinations have taken shape, and their blueline is almost whole again. The 5-0 domination of Pittsburgh on Tuesday night is a good place to start. Now they must build on that as they get in to the meat of the season.