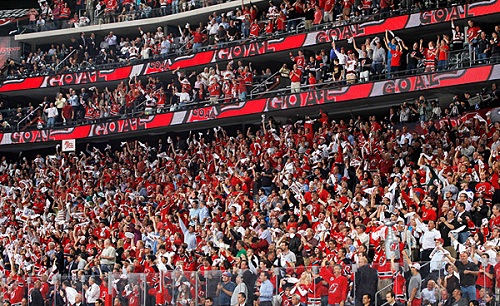 NHL teams are trying anything they can to make sure people attend games. These teams are trying to appeal to the very people that buy tickets, food and merchandise. Here are what some teams are doing.
Buffalo
Team is offering 50% off merchandise in the team store until the home opener.
Calgary
Fans can enter a contest that offers several prizes including autograph jerseys, tickets, press box access, and pre-game skates.
Carolina
On opening night, all fans will receive a 2'x3' house flag. In addition, the Canes will be giving away $50,000 in prizes including front row seats, jerseys, autograph items, etc. All merchandise in the team store is 50% until January 24. The Canes will also offer 50% tickets for opening night.
Columbus
For $30, fans can get an upper bowl seat with a $10 food/drink voucher, blue jackets hat and travel coffee mug. College students can purchase lower bowl seats for $25 and $15 for upper bowl seats.
Florida
Season tickets for as low as $7 a game! Absolutely a great deal and a must-have for the die-hard hockey fan.
New Jersey
The Devils have a contest that will give one lucky fan a pair of season tickets.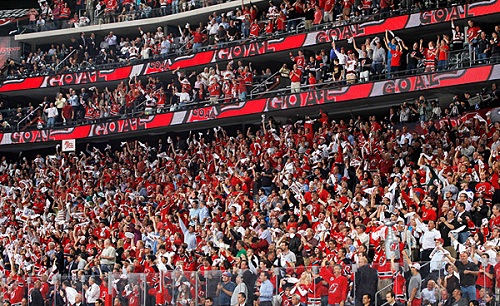 Pittsburgh
The Penguins will be giving away several items to fans this year. Everything from t-shirts, fleece blankets, caps, will be given to fans. Perhaps the most unique thing is an Evgeni Malkin bobblehead. This bobblehead has Malkin holding the Art Ross (scoring champion), Hart (MVP), and Ted Lindsay (most outstanding player that he won last season. During the first 4 home games, a few, select concessions will be free and 50% off merchandise. There will be a contest featuring prizes of autographed jerseys, road trip to New York to see the Pens play the Rangers, and $700 of merchandise at the team store.
It looks like Pittsburgh is really stepping up in their promotions and have the best deals/contests for fans. I think all teams should offer deals on merchandise and coupons for free concessions. In addition, reduced priced tickets would also be acceptable.