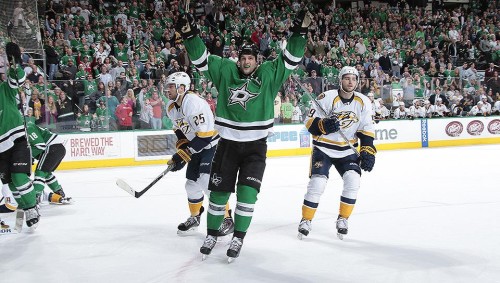 It's a storyline that has nearly been beat to death in recent years, but it bears repeating if only out of stubborn ignorance. The NHL has re-entered the dead puck era.
Again, this shouldn't be breaking news to anyone, especially considering the NHL's emphasis on it. But the fact of the matter is many of the NHL's rule changes – reducing the size of goalie pads, allowing the two-line pass, decreasing the depth of the nets, etc. – have failed in their attempt to increase scoring.
The main point of contention in the 2004-05 lockout was the topic of a salary cap, but getting league-wide scoring back up was also a major concern in the NHL's camp. While the changes made paid immediate dividends in league scoring, the honeymoon quickly ended.
While goals scored jumped to 7,443 across the league in 2005-06 – up from 6,113 in the 2003-04 season – and the numbers stayed relatively steady for another two seasons, it didn't last. Following the 2008-09 season, which saw 7,006 goals scored, scoring went into a steady decline – though it got some relief this season as scoring increased to roughly 6,700 goals after hovering around 6,550 for the past three seasons (based on projections for the 2012-13 shortened season).
But for another perspective, take a look at the following two charts of individual scoring (comparing the best four-year stretches of the 90s and 2000s). The "goals" and "points" totals are what were scored by the league leaders in each category (the number in brackets is the number of players who reached 50 goals or 100 points respectively that season).
| | | | | |
| --- | --- | --- | --- | --- |
| Year | 1989-90 | 1990-91 | 1991-92 | 1992-93 |
| Goals | 72 (8) | 86 (4) | 70 (4) | 76 (14) |
| Points | 142 (13) | 163 (10) | 131 (9) | 160 (21) |
| | | | | |
| --- | --- | --- | --- | --- |
| Year | 2005-06 | 2006-07 | 2007-08 | 2008-09 |
| Goals | 56 (5) | 52 (2) | 65 (3) | 56 (1) |
| Points | 125 (7) | 120 (7) | 112 (2) | 113 (3) |
The 2005-06 season – the best of the '00s on an individual basis – was roughly equal to the worst of the early 90s seasons. Sure it was a different time and the game was played differently, but for there to be such a large discrepancy is no accident.
This season was perhaps the worst in recent memory: Alex Ovechkin was the only player to reach 50 goals and, on top of that, Jamie Benn's league-leading 87 points marked the first time (in an 82-game season) the league leader failed to reach 100 in a season since 2003-04.
So now that we know it's happening, what needs to be determined is why it is happening? Use all the buzz words you want – the players are bigger, faster, stronger, more skilled – but there has to be something more.
On the face of it, the problem seems to be strategy du jour is to play a defence-centred game. Top-six forwards are lauded for their defensive ability – the names Pavel Datsyuk, Anze Kopitar and Patrice Bergeron come to mind – but at what cost? By having to focus so much on defence, players such as these are forced to sacrifice what offensive skills they can bring to the table.
Defense is obviously a crucial part of hockey, but in an era when rolling four lines is no longer optional, but a necessity, it would serve to make sense that the bottom two lines be assigned to defensive specialist duties. If the top two lines can play efficient defense and the bottom two can contribute some points from time to time, it's a strategy where everyone wins.
Because let's face it: a higher scoring game is just more entertaining (well, maybe not for the goalies, but they've had a good run anyway). Ask fans of the '80s and '90s what it was like to watch Marcel Dionne, Wayne Gretzky, Brett Hull, Mario Lemieux, Steve Yzerman or any of the multitudes of other phenomenal forwards light the league up.
There's no shortage of capable players who could whet the appetite of fans around the league who are hungry for scoring, but so long as things continue to remain as they are, that appetite won't be satisfied any time soon.
Love Reading About Hockey?

Subscribe to keep up-to-date with the latest and most interesting hockey news!
| | |
| --- | --- |
| | We hate spam just as much as you |