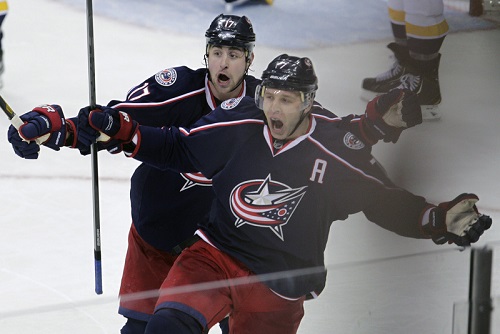 The Columbus Blue Jackets have been without a captain since the summer 2012 trade of former captain Rick Nash, and coach Todd Richards says he's no closer to naming one than he was this time last year. It makes sense – naming a team's captain isn't something that should be a rush job, after all. And with several potential candidates already taking on leadership roles, Richards appears content to bide his time and see how things play out in training camp and beyond.
At the beginning of last season, Columbus named three rotating alternate captains – Derek Dorsett, Jack Johnson, and RJ Umberger. By the end of the season, the positions were rotating between Johnson, Brandon Dubinsky, and Vinny Prospal. Richards may have liked the level of leadership that decision brought to the room, given the way that the end of the 2012-2013 season played out for the Blue Jackets, and he could very well choose to go that same route this season. Dorsett went to the New York Rangers in a trade deadline deal in April and Prospal is currently an unrestricted free agent, but Johnson, Umberger, and Dubinsky remain in Columbus and in contention for the captaincy. These three players could be given "A"s this season as a signal that Richards is watching them for a potential standout that makes his choice for the captaincy that much easier.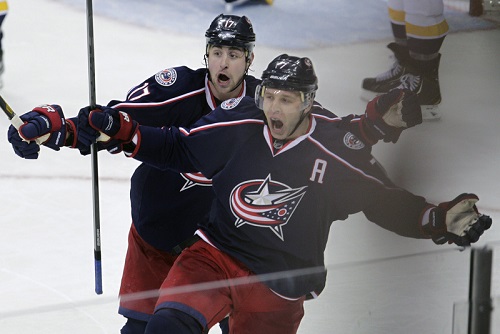 Umberger might get a good look because of his familiarity with and commitment to the organization – he has only missed five games in the past five seasons, and given that he's currently signed for the next four years, Richards may see someone who is in it for the long haul with the Blue Jackets. Dubinsky really became one of the go-to guys in terms of accountability in the room last season, and willingness to be "that guy" is essentially a requirement for an NHL captain.
In the end, though, what Richards sounds like he's looking for is a guy who will come into the room and immediately step up to the plate. A good guess is that that guy will be Jack Johnson. It's rare that a new guy comes in with as much heart and enthusiasm as Johnson did in Columbus (something that must've been a breath of fresh air after Jeff Carter), and that enthusiasm has only grown. He frequently talks about how happy he is to be in Columbus, and by all accounts is a terrific guy to have in the room. Johnson also has experience leading a team: USA Hockey gave him the "C" for Team USA at Worlds in 2010 and 2012. If Todd Richards sees what USA Hockey and just about everyone else sees, there's a good chance Johnson will be named Columbus' next captain – whenever Richards wants to make that decision.