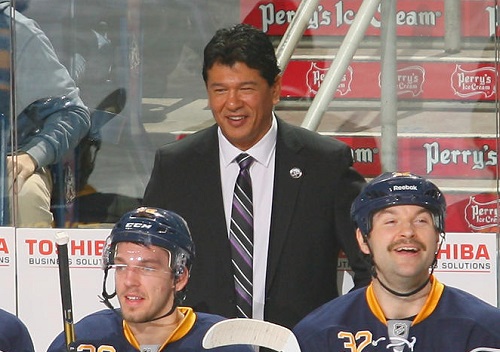 It sure has been a wild and crazy year for Buffalo Sabres fans. Ron Rolston was fired as head coach. Then Pat Lafontaine mysteriously left the team to take a position with the NHL. Today, the Sabres announced that the interim tag for coach Ted Nolan has been removed and he will be extended for 3 years.
Nolan did pretty well his first time around with the Sabres. In 2 seasons, he went 73-72-19. For the 1996-1997 season, he was awarded the Jack Adams Trophy for being the league's best coach. His 96-97 team has been regarded as a very tough and hard-working. With players like Rob Ray, Matthew Barnaby and Michael Peca, they were definitely hard-working. It also helped to have recently inducted Buffalo Sabres Hall of Fame member Dominik Hasek as goalie.
Nolan has been considered a players' coach and an excellent motivator. He expects a lot from his players. Earlier in the year, forward John Scott was not giving 100% during some drills. Nolan tossed Scott from practice due to lack of effort.
It has been a tough year though for Nolan and the Sabres. Star goaltender Ryan Miller was traded at the trade deadline along with captain Steve Ott. Matt Moulson was also traded away. This team is in complete rebuild mode. Nolan is currently 16-30-8 since he took over in mid-November.
With the right players and an abundance of draft picks, Nolan has a great opportunity to succeed and bring a Stanley Cup to Buffalo. In this past Olympics, he coach a Latvia team that almost upset Canada. 3 years will be enough time to draft and develop players, sign some key free agents and change the culture of the locker room.