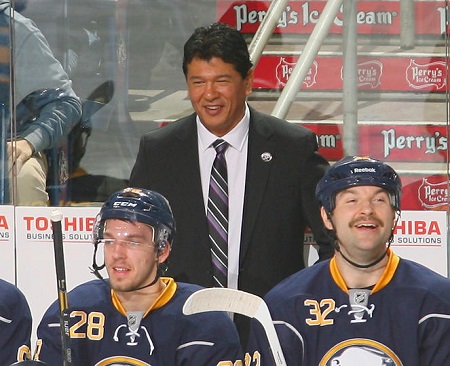 Perhaps all the Buffalo Sabres needed to do was to make a coaching switch earlier. The Sabres not only won their second game in a row, they played much better than they have all season. Buffalo was able to defeat their rival Toronto Maple Leafs 3-1 at the First Niagara Center. Interim head coach Ted Nolan said his team "looked pretty good live".
The two teams played to a 0-0 tie after the first 20 minutes. Buffalo actually out-shot its opponent 10-5, something that hasn't been done much this season.
Toronto would get on the board first with a goal by Trevor Smith (David Clarkson, Mason Raymond). Buffalo would answer right back with a goal of their own.
Mark Frasor was sent to the penalty box for cross-checking. Steve Ott picked up a Tyler Myers rebound and slid it past Jonathan Bernier. It was Ott's 3rd goal of the season. Nolan said of Ott "very competitive type of guy…wasn't happy with how things were going".
Marcus Foligno would score on a 2-1 later in the period. Foligno took a Steve Ott pass and beat Bernier. Drew Stafford also got an assist on the goal.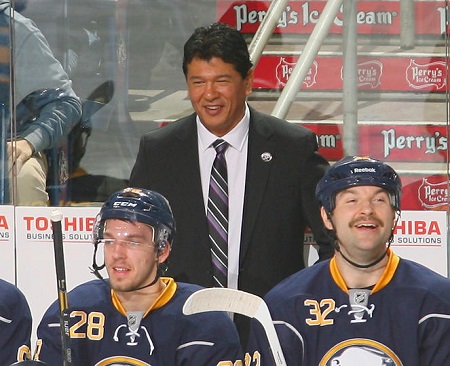 Both teams battled hard in the 3rd period. Buffalo again played well and scored the only goal of the period. Christian Ehrhoff buried the puck in the empty Toronto net and sent the Sabres crowd into a frenzy.
Game Notes:
Ryan Miller made 33 saves on the night.
Buffalo was 1-3 on the power-play and blocked 16 shots.
The Sabres won 2 games in a row for the first time this season.