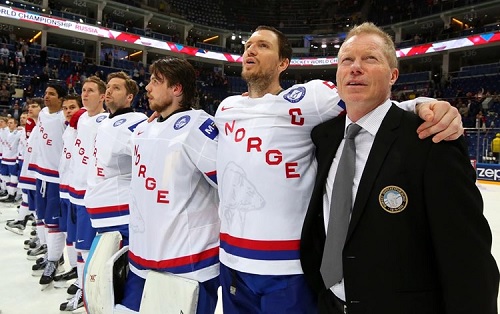 Entering Tuesday, Norway head coach Roy Johansen had helmed his national squad through 15 iterations of the IIHF World Championships.
But, after all those years, the time had come–regardless of the outcome, Norway's prolific bench boss would step down from the position he's held for the better part of two decades.
And, squarely out of quarterfinal contention, his charges delivered, powering the team to a fitting 3-1 sendoff victory over Latvia.
For all the emotion surrounding it, the game got off to an inauspicious start for the Norwegians: Just over halfway through the first period, Dinamo Riga forward Miks Indrasis opened the scoring for Latvia, firing home a power play goal over the glove hand of goaltender Steffen Soberg. However, Norway would quickly equalize, as Ken Andre Olimb put a close-range finish on Mats Rosseli Olsen's center-ice pass.
All tied up, both teams headed to their respective locker rooms. Buoyed by its equalizing goal and a fiery Johansen speech, Norway hoped to find newfound momentum heading into the second frame.
In storybook fashion, Norway swiftly delivered.
Within a minute of the second-period puck drop, the Scandinavians effectively ended the tilt, rolling the Latvians with a two-goal burst from the blueline and chasing netminder Elvis Merzlikins in the process.
40 seconds in, rearguard Jonas Holos wristed a point-shot off the crossbar for his first of the tournament, handing NHLers Andreas Martinsen and Mats Zuccarello a pair of assists. And, 16 seconds later, any hope of a Latvian comeback was buried by Johannes Johannesen's unassisted effort.
Although they played an undisciplined match–taking six minor penalties and an unsportsmanlike conduct infraction in the game's final 34:40–the Norwegians blanked Latvia through the final two periods of play, their eighth-ranked penalty killing unit stepping up following its early misstep.
In all, Norway outshot its opposition 26-24, ending its championship run on a high note with its second regulation victory of the tournament. The squad finished fifth in Group A, three points shy of a playoff berth.